Watercolour landscapes can be done in a variety of ways, which makes them so beautifully unique. Painting your favourite location like a seaside, quiet field, mountainscape or rolling hills can be such a calming practice, too!
Speaking of practice, landscapes are the perfect way to test out your supplies and become familiar with different watercolour painting techniques.
The variety of subjects that can be visible in a landscape painting let you play with colours and shapes to ultimately create a scene out of your own imagination!
I've gathered 20 different watercolour landscapes that will definitely give you a little painting inspiration for the next time you're ready to paint a landscape of your own.
Visible Strokes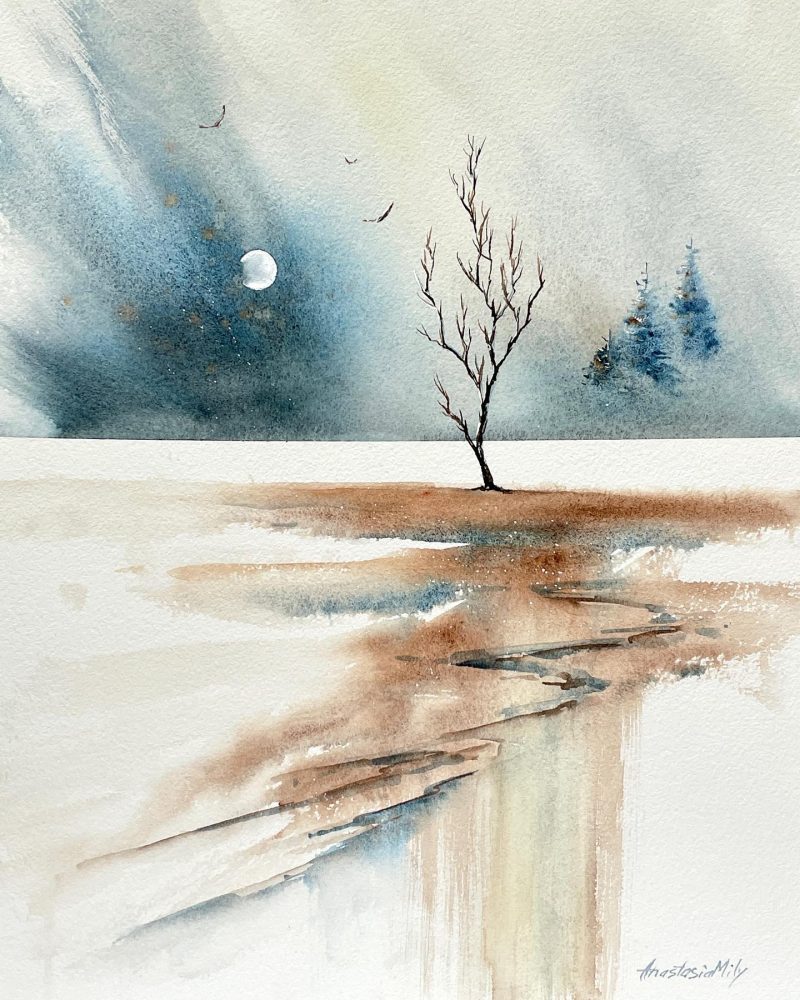 The colour palette of this watercolor landscape piece works really nicely with the intentional strokes and wet into wet style. Small bits of detail done with a fine tipped brush make the painting less abstract.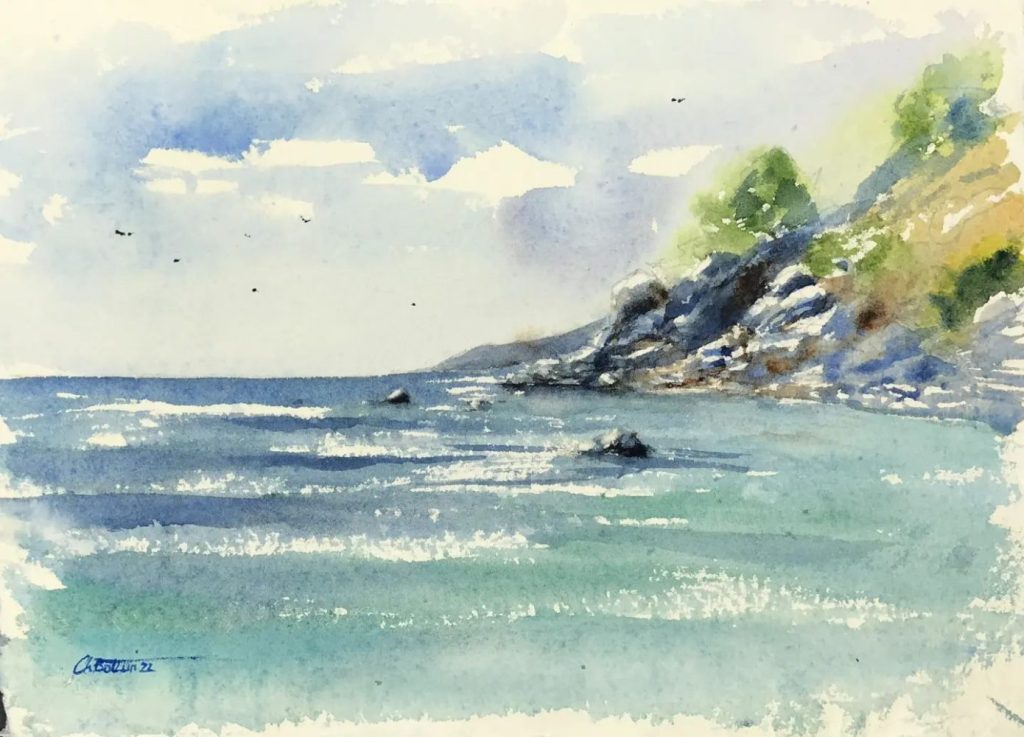 This painting also uses intentional strokes to give the effect of highlights on water. Some hard edges give it an organic, rough appearance too!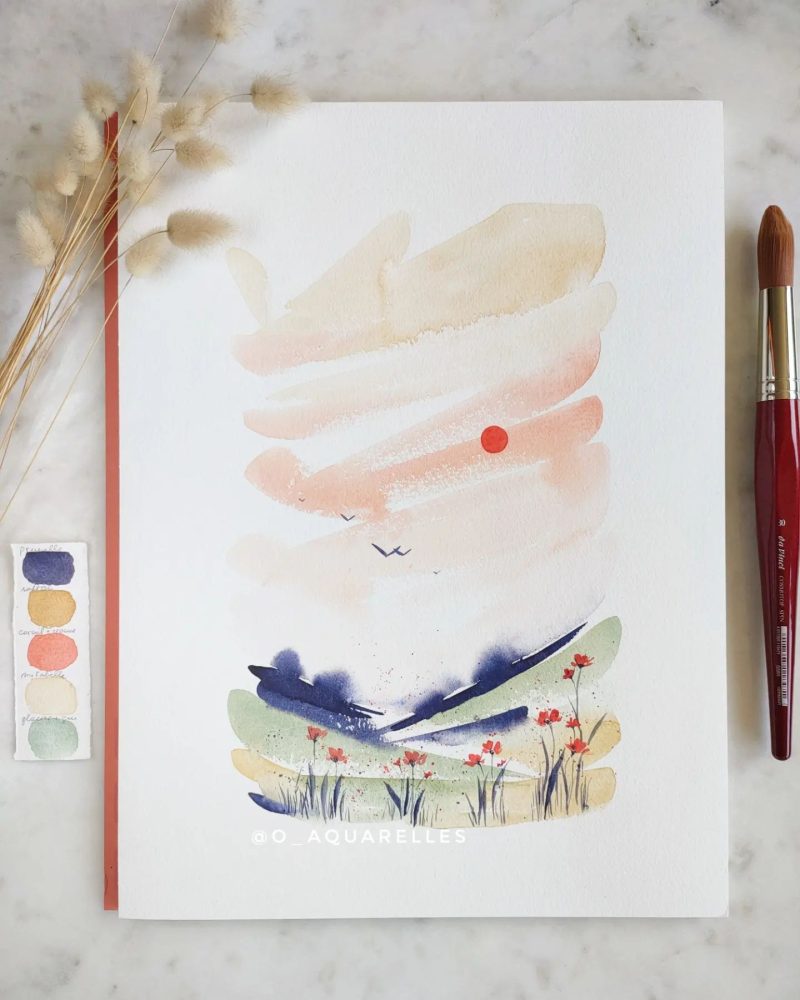 For a more abstract piece, try something like this painting! A large round brush allows you to create perfect brushstrokes and a totally unique composition.
Bold and bright watercolour seascapes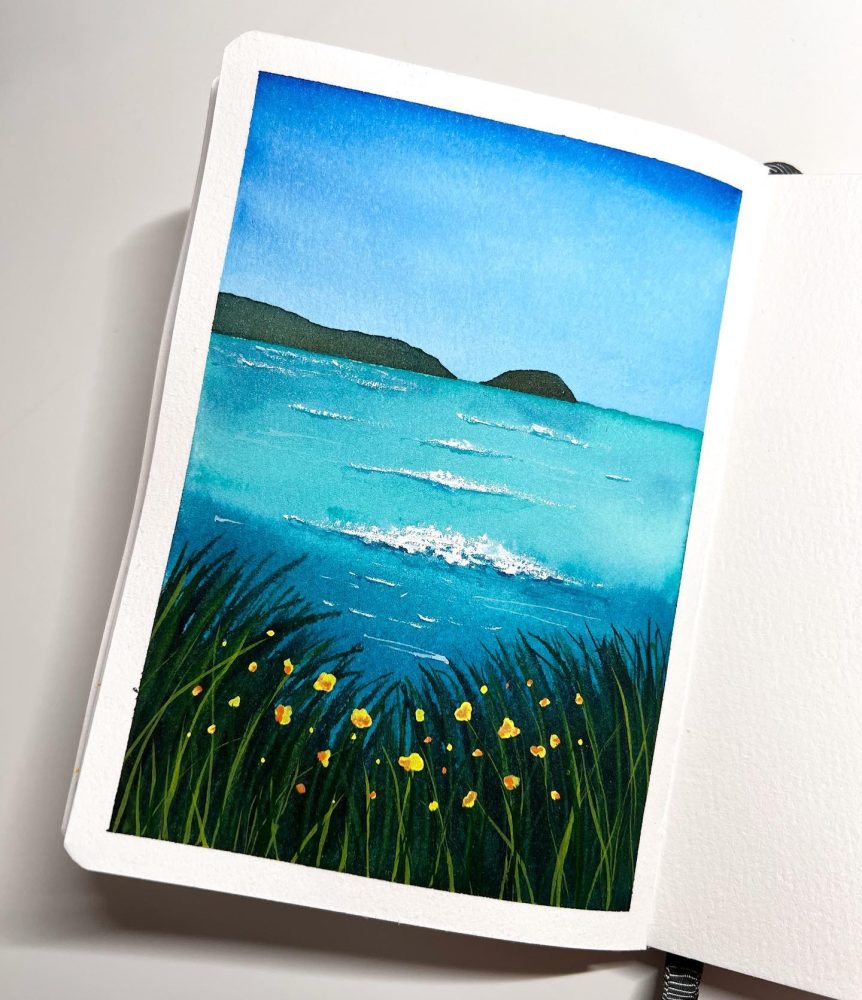 The colours on this piece are so striking and bold! The blue tones compliment the little yellow flowers beautifully, and the stark white waves make it come to life.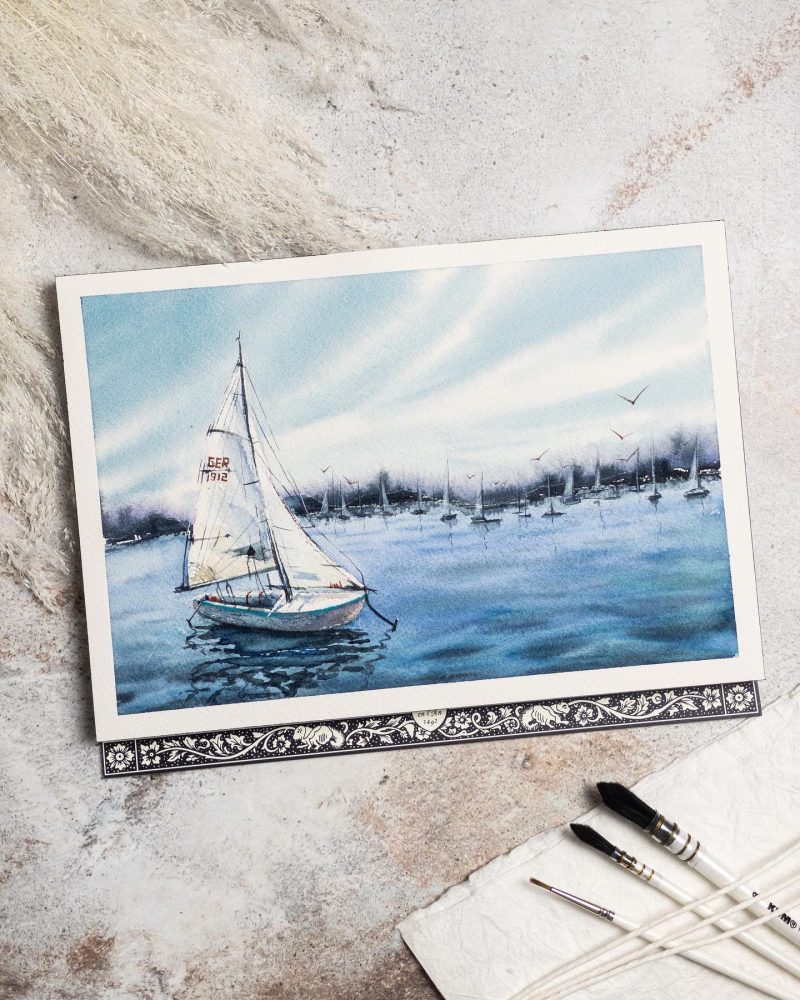 Painting water with watercolour paint is a whole skill on it's own. This seascape uses lots of blues and wispy clouds with a single focal point of a boat in the foreground. See also: how to paint realistic watercolour clouds.
Ink and wash landscape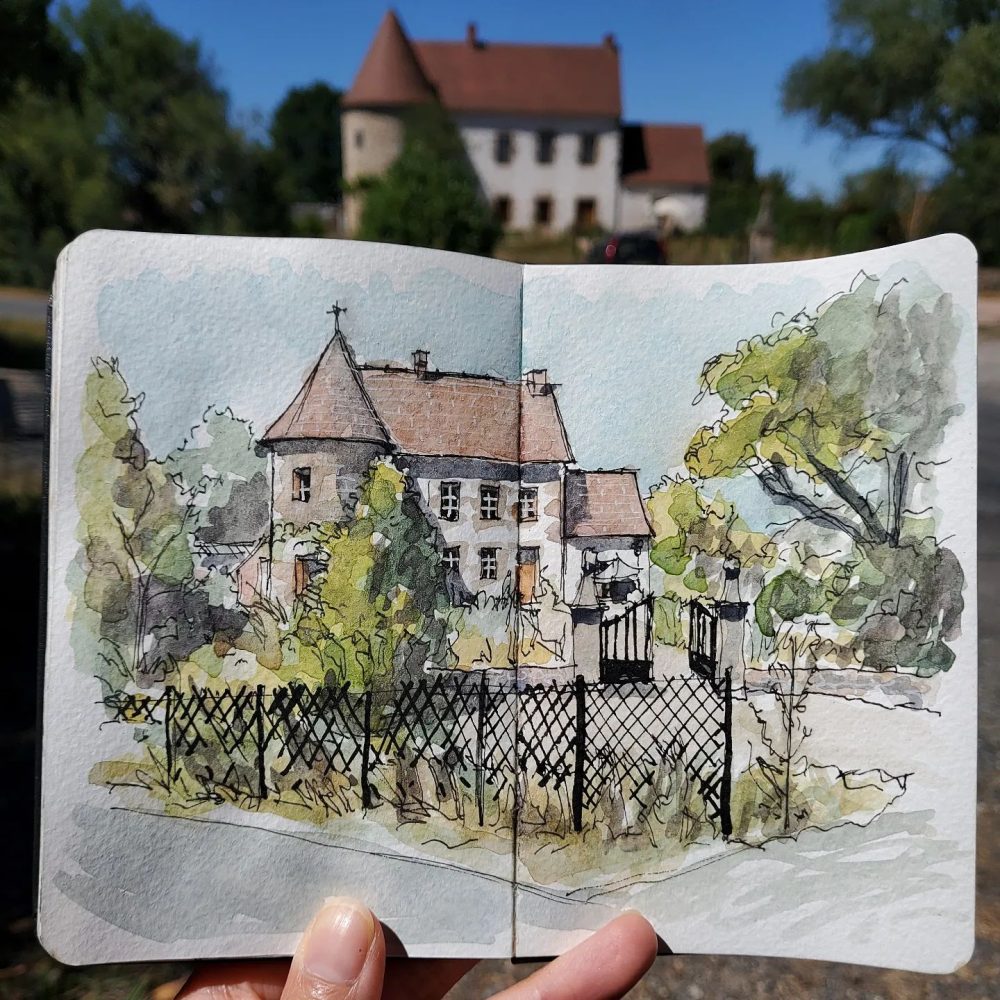 A quick sketch of this home using an ink and wash technique looks awesome in this two page spread. Quick but thoughtful colour washes bring it all together.
Lots of watercolour landscapes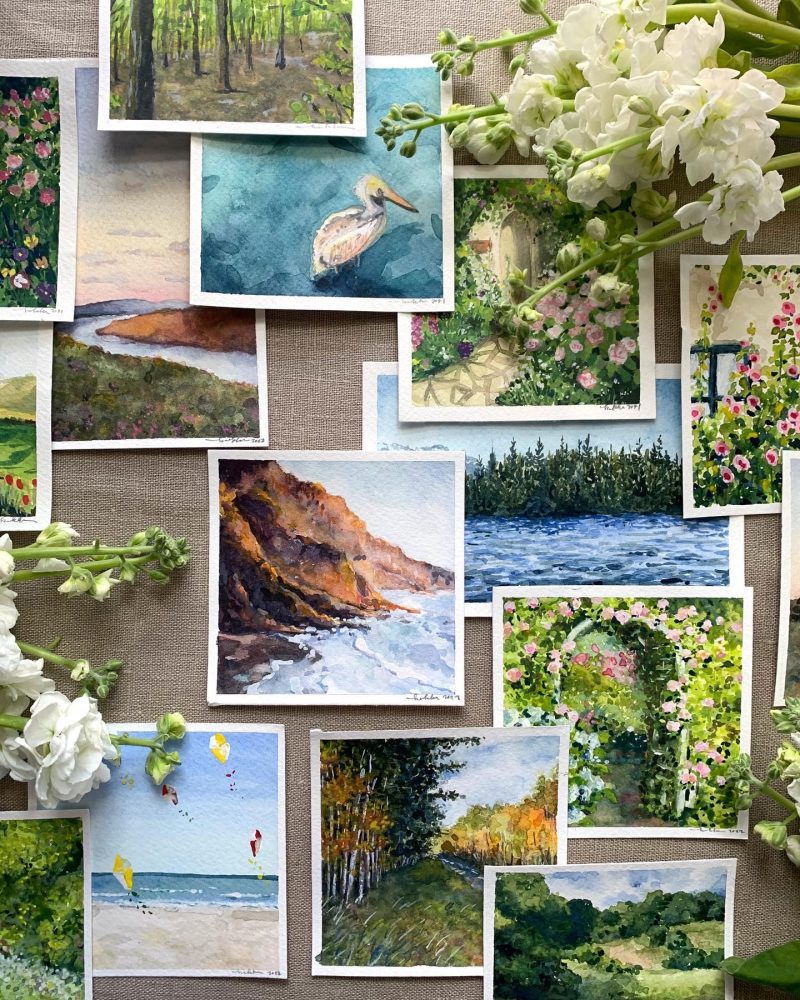 This collection of watercolour landscape paintings is so perfect! The variety of different subject matters should give you enough inspiration to fill a sketchbook of your own.
Orange toned landscapes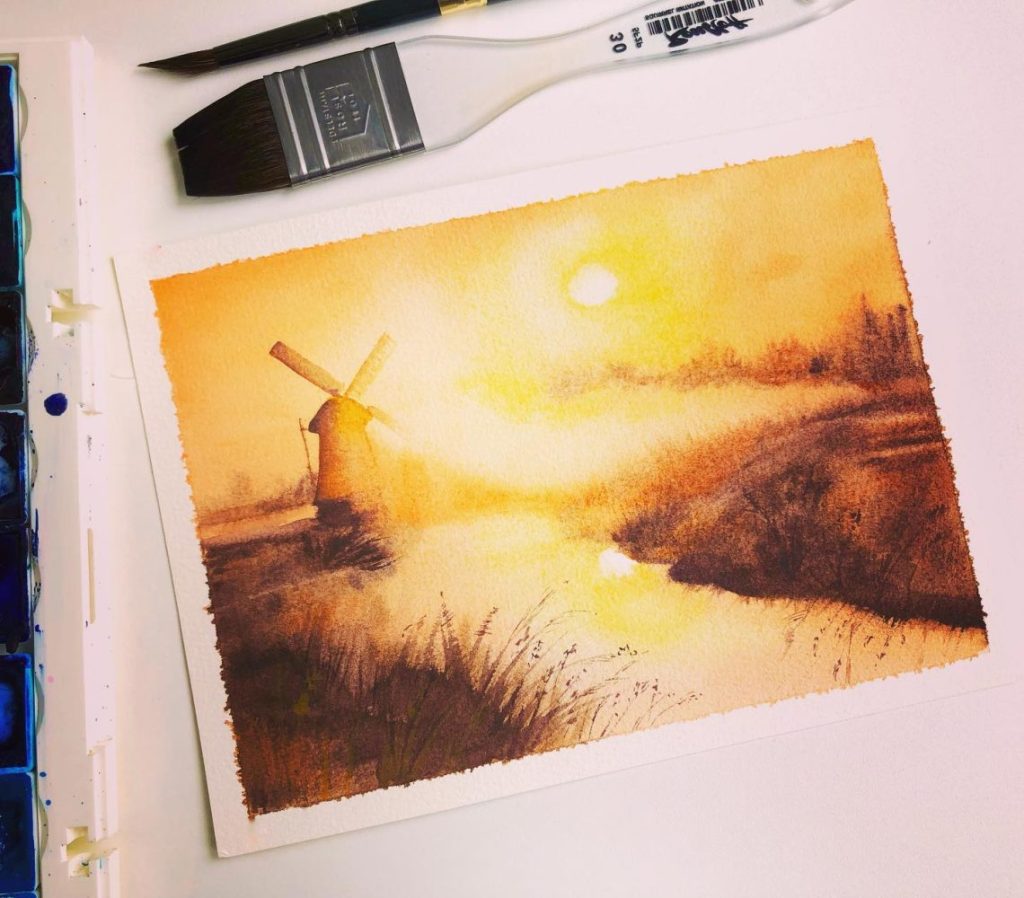 The use of yellows and oranges allow for an awesome sunset vibe in this painting. With minimal colours you can create something so beautiful!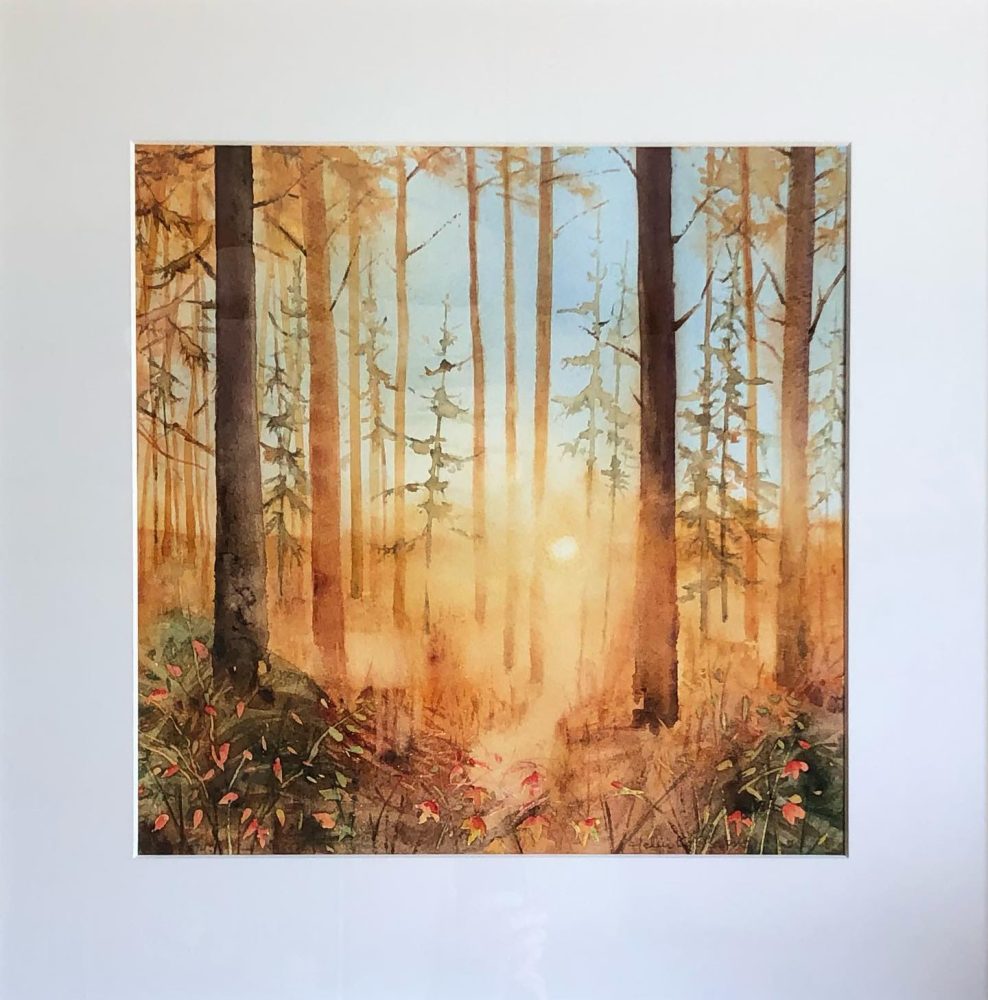 This sunset forest landscape also uses orange hues and light/dark values to highlight the sun gleaming off of the trees. So pretty!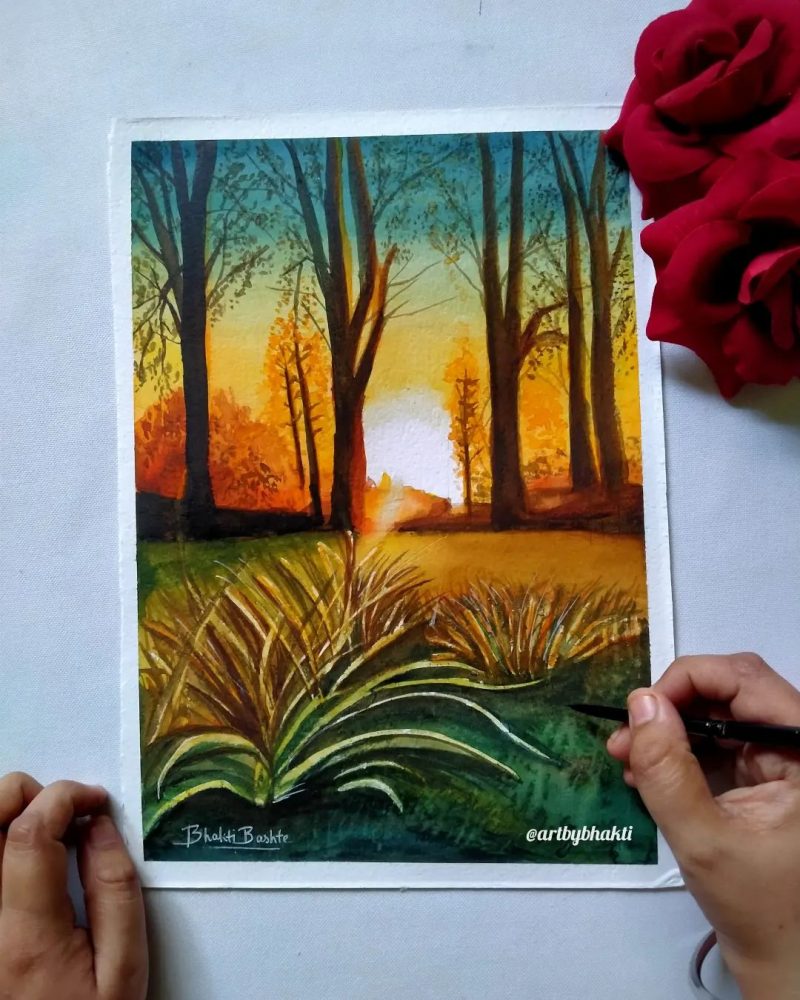 Another sunset style landscape painting that is created by leaving a bright white space in the center and painting the other elements around it.
Drippy Watercolour effect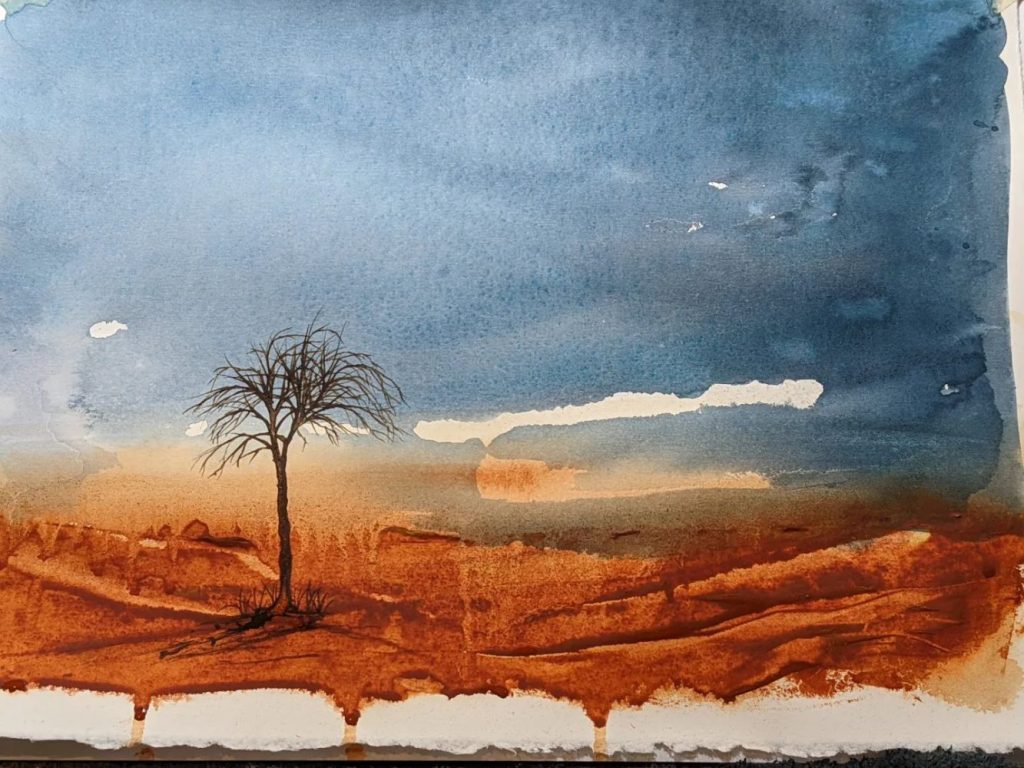 An intentional drip effect like this painting uses is a great way to add another level of interest to your paintings. Simply use lots of wet washes and tilt your paper while applying the paint.
Showcasing a subject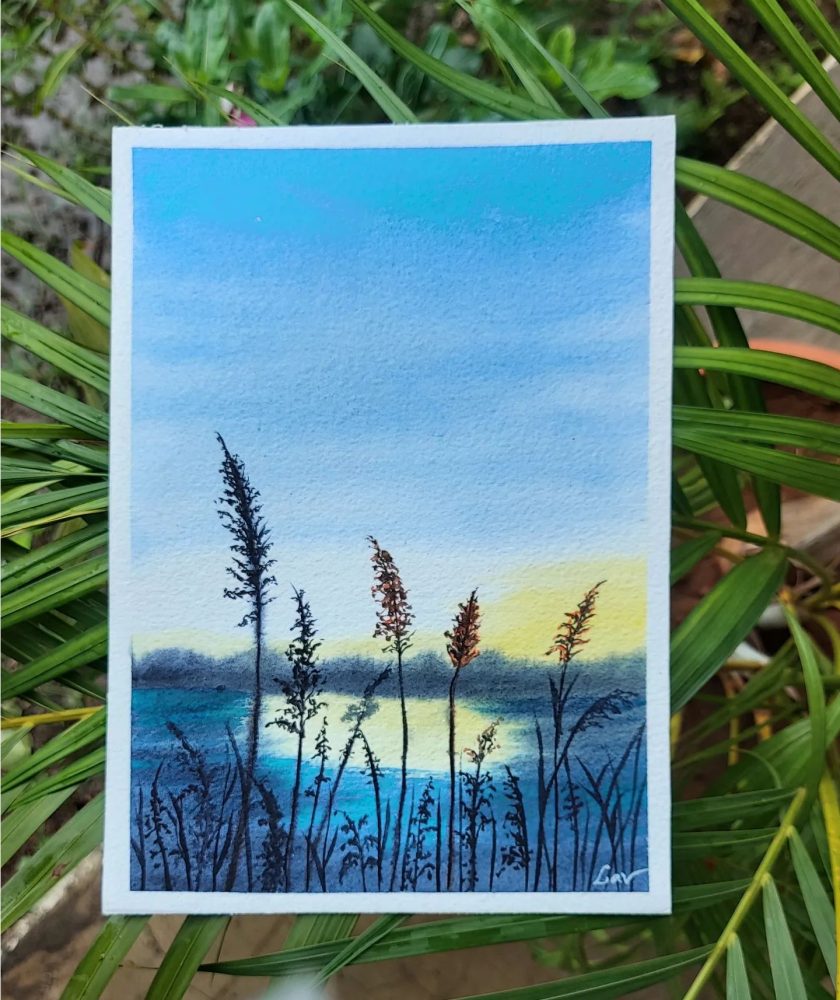 Using foliage in the foreground is a popular technique in landscape paintings. The background (created here using some wet into wet techniques) allows for a soft, almost blurry and undefined setting while the foreground gives the piece context and helps you to understand the full picture.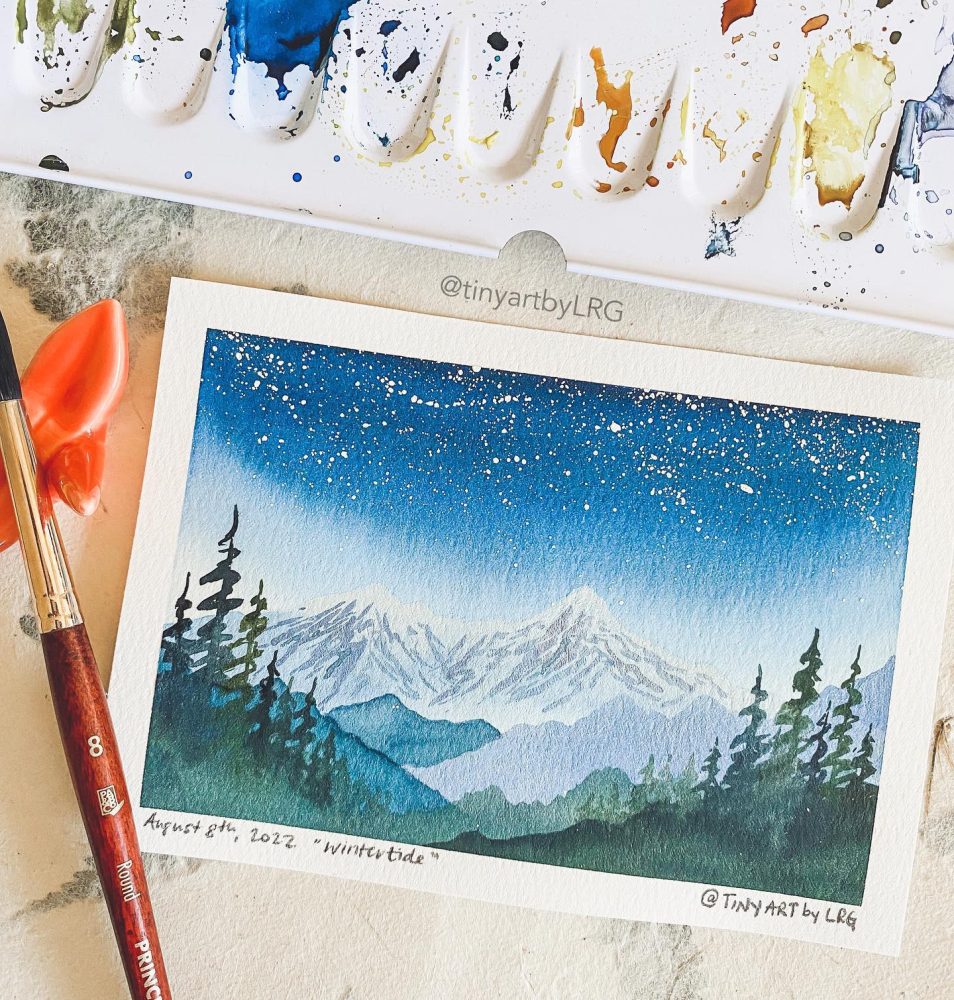 A mountain scene is another one that watercolourists love to paint, and for good reason! If you haven't seen my post about how to paint a mountain, check it out and try one for yourself!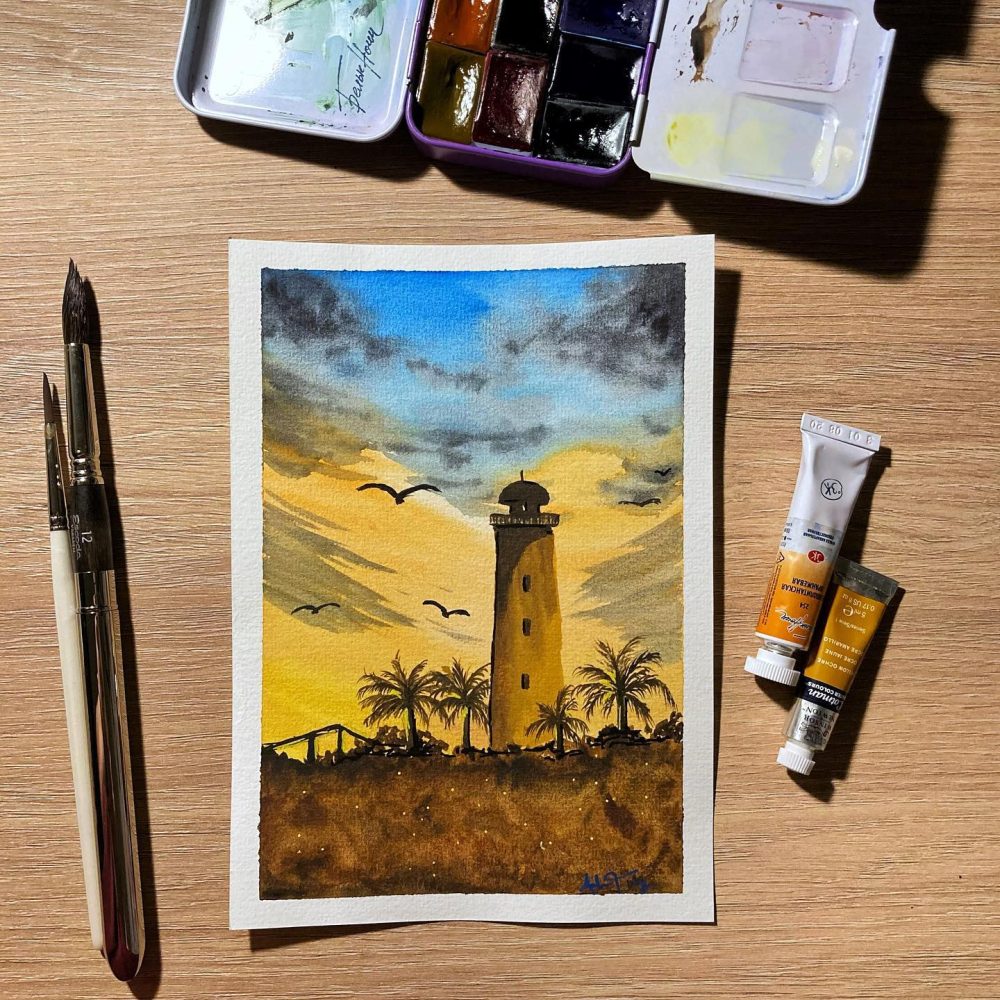 A lighthouse is another popular watercolour landscape idea! Adding a focal point to a landscape piece is what will help make your painting stand out and give it a little subject matter.
Small Landscape Paintings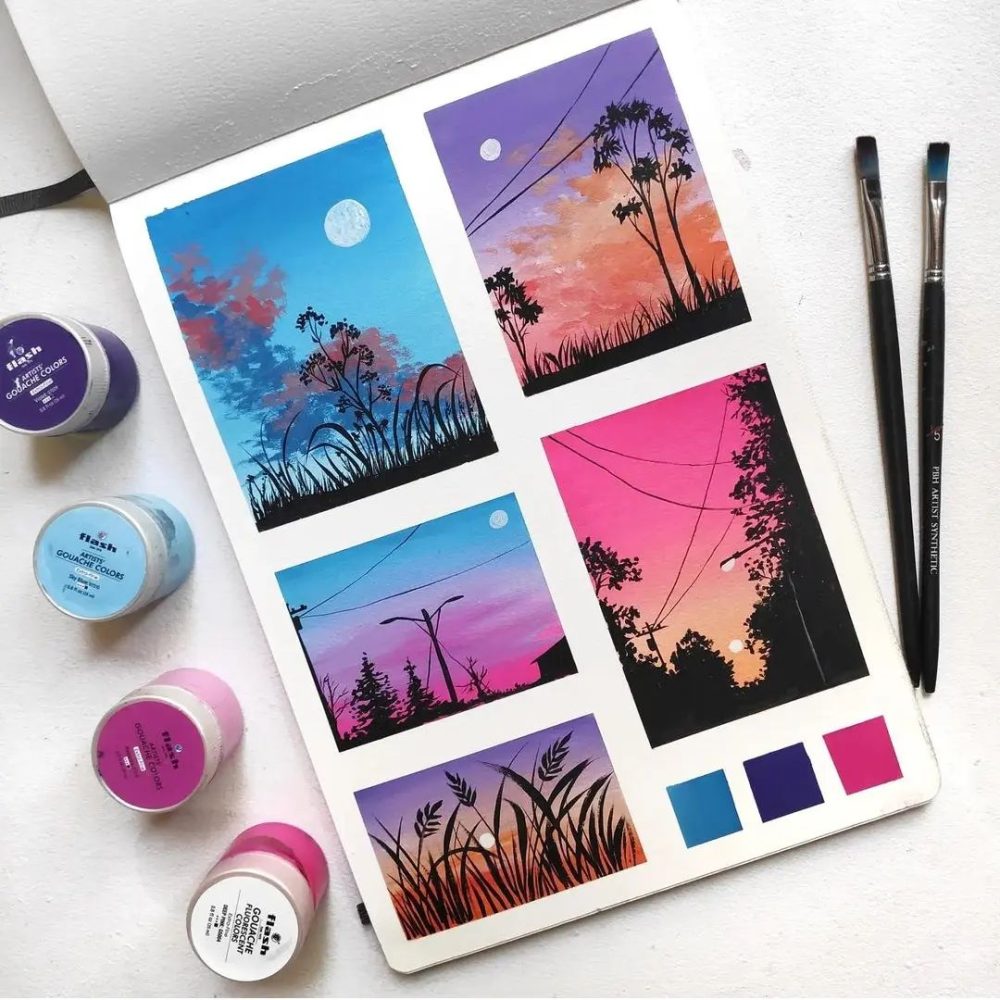 These gouache paintings above use such vibrant pigments and a silhouette style theme. It's awesome what a good silhouette can do when you're using a darker pigmented black and fine detail brushes!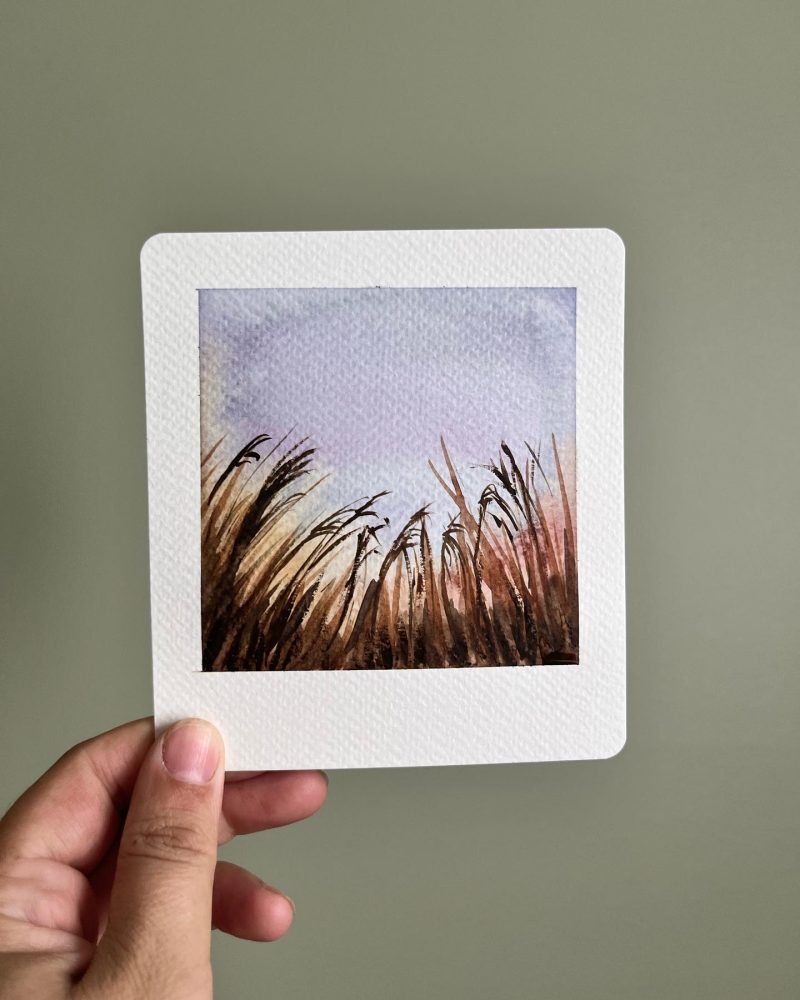 This little painting would make for a great watercolour painting exercise! Maybe try creating little instant photo style paintings of your own using small brushes and a little piece of cut watercolour paper.
Gorgeous Wet on Wet Landscapes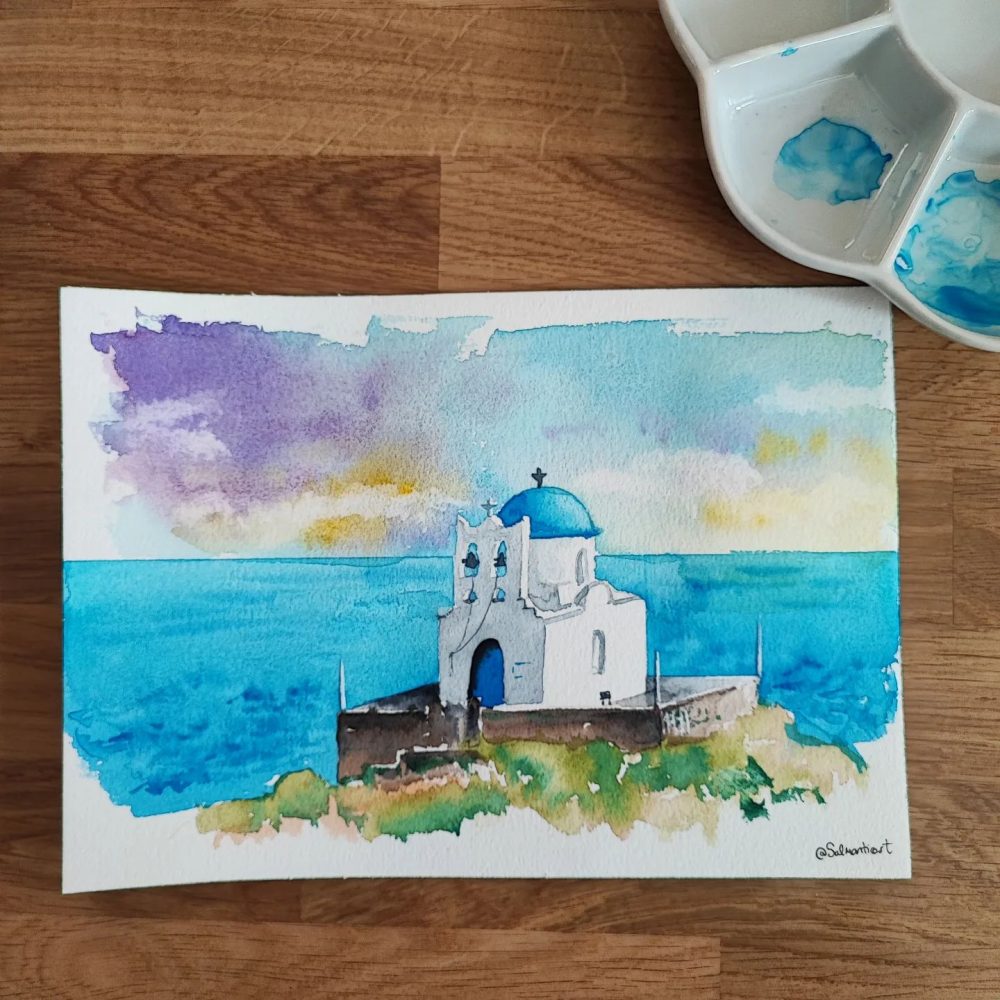 This ocean view uses lots of intentional wet strokes with various colours dropped in to create those magnificent blends!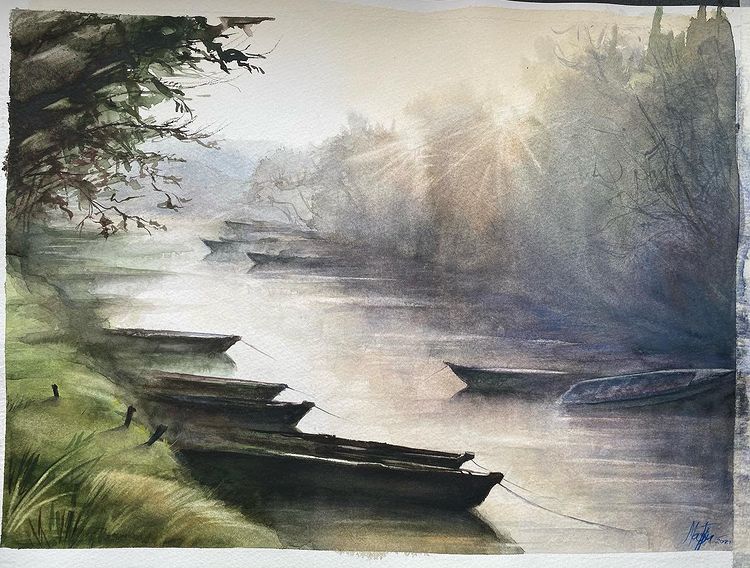 These muted hues look awesome with a soft, wet on wet background. A fine tipped brush adds just the right amount of detail to define the trees and boats without going overboard.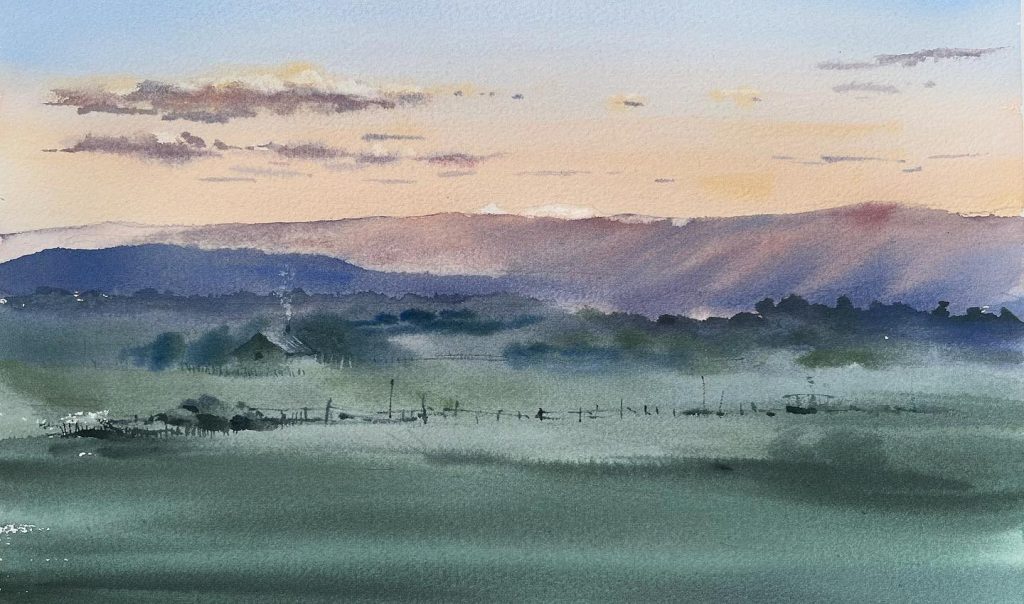 A countryside field has a super soft appearance due to the increase of wet on wet blending. These dark and light shades of similar colours help to add sunlit effects and depth to the scene.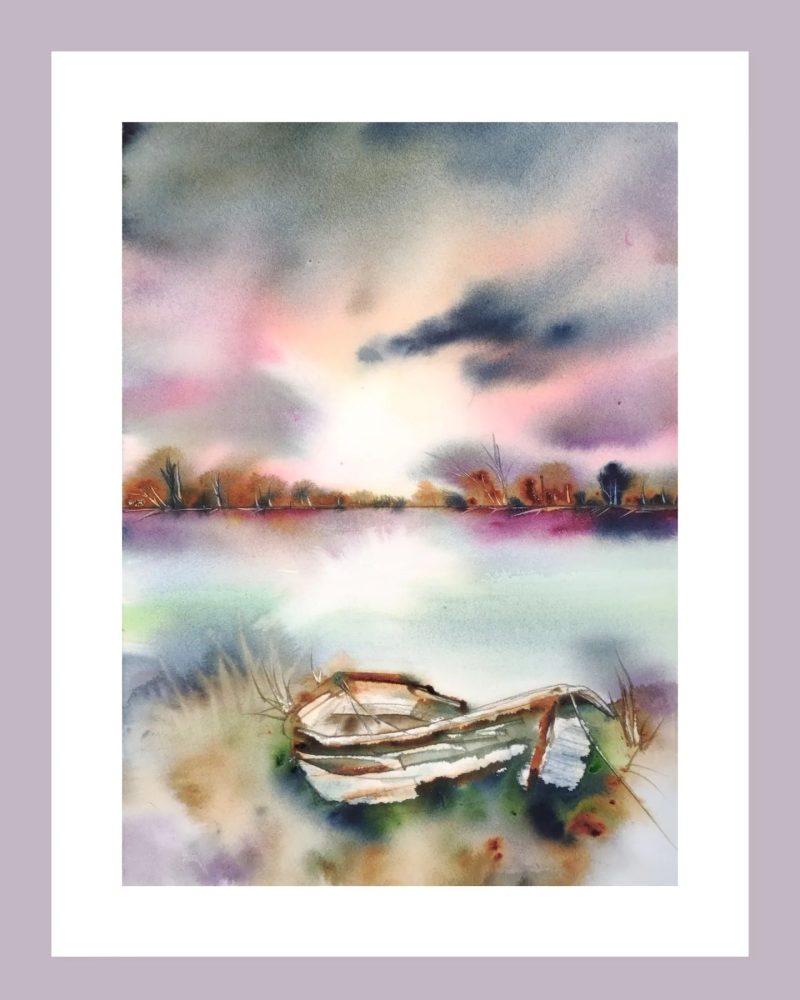 These colours aren't typical for a scene like this, but that is what makes it so special! The addition of pink and purple hues and minimal blue tones in the water make this piece look magical!
I'm sure you've got a lot of new ideas to try for your next watercolor landscape painting! Which one will you be attempting next?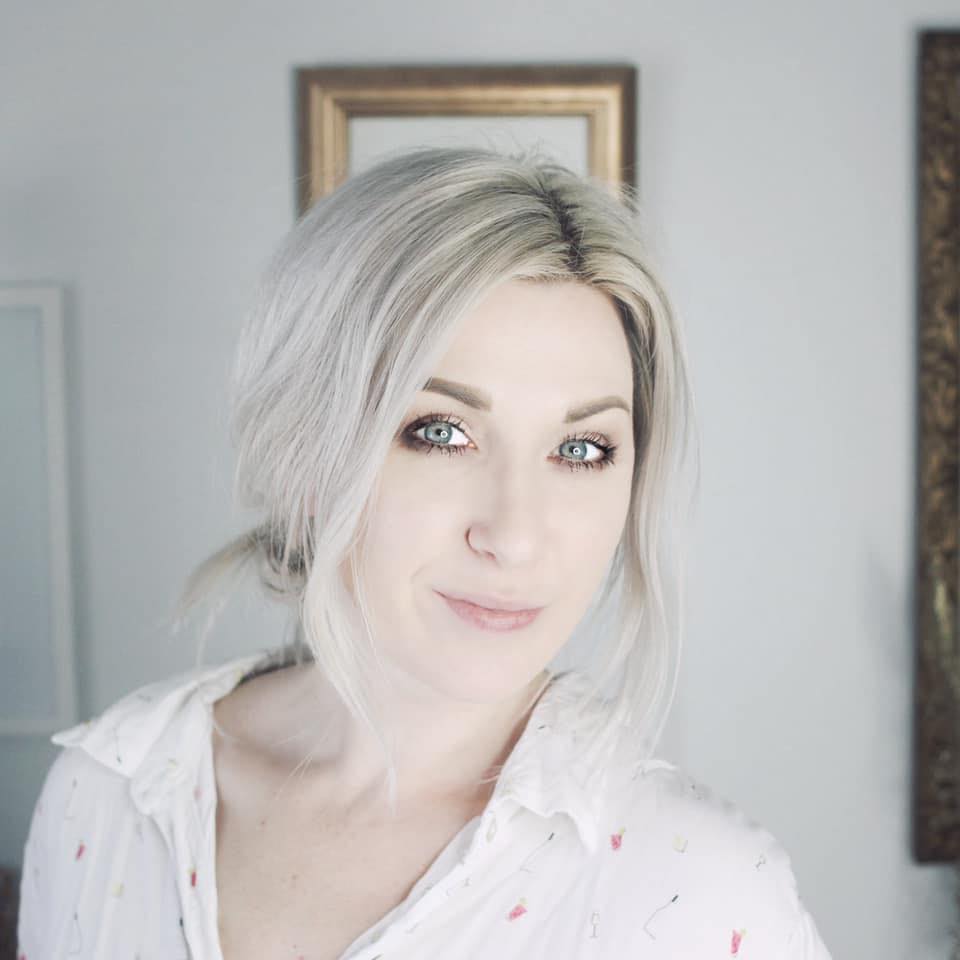 Besides being a wife and mama, I'm an entrepreneur, artist and author of the Watercolor With Me book series. I'm from Ontario, Canada and founder of the brand Wonder Forest. I'm here to help you on your watercolour journey!