The holidays are such a fun time for making some Christmas watercolour paintings, but sometimes you just don't know where to begin!
I've always enjoyed creating my own handmade Christmas cards for family and friends that can double as a piece of artwork when the big day is done.
In this post, I'm sharing some great holiday painting ideas to help you get started and get your creative juices flowing.
This post contains affiliate links. As an Amazon associate or affiliate partner, I may earn a percentage from qualifying purchases.
Watercolour Christmas Ornament Ideas
Christmas ornaments are lots of fun to paint and can be totally customized using your own imagination. They're relatively simple to create as well!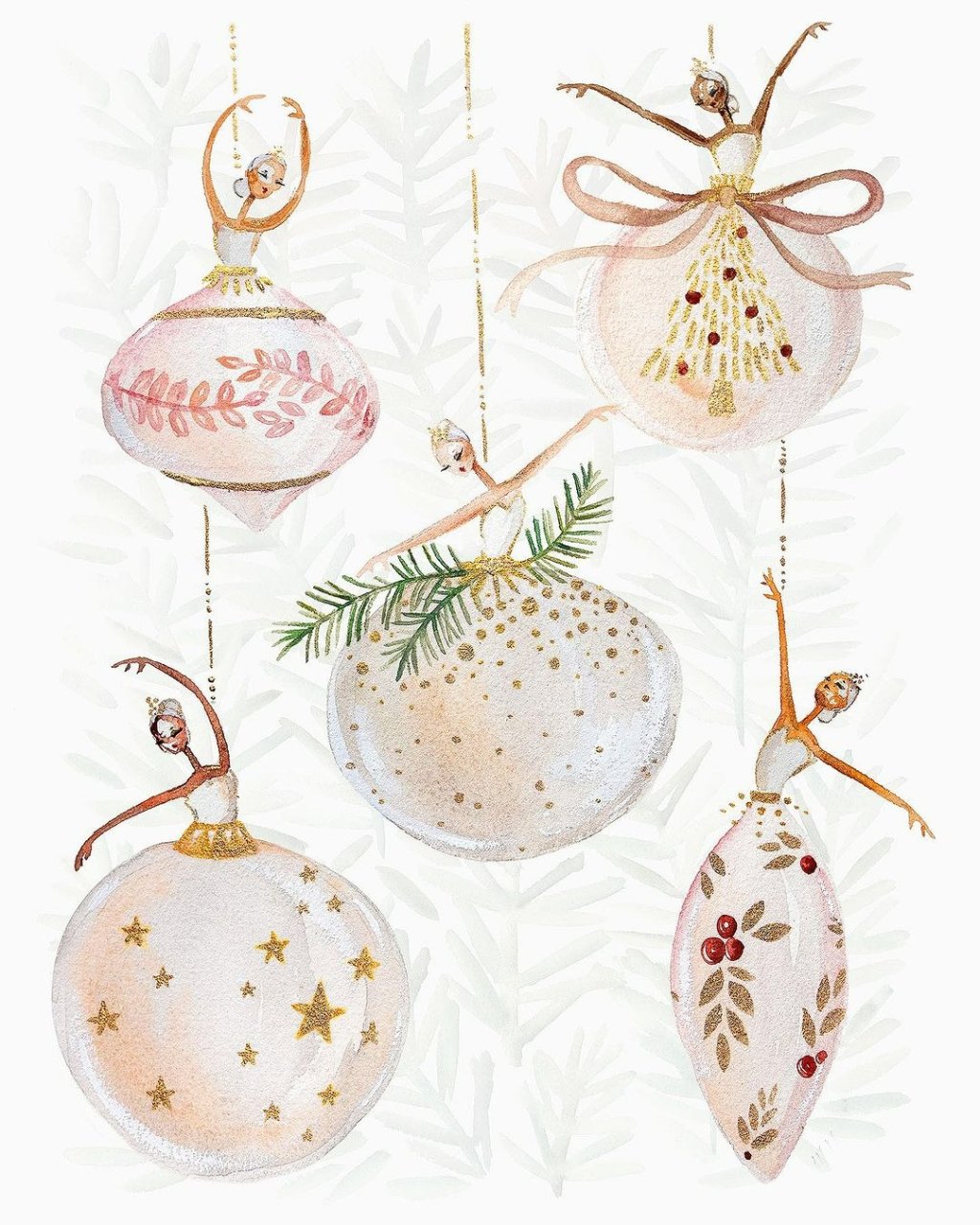 This Nutcracker inspired collection of Christmas decorations is so beautiful in shimmery golds and light pastel tones. I love how the different shapes are portrayed with a different dancer on the top of each.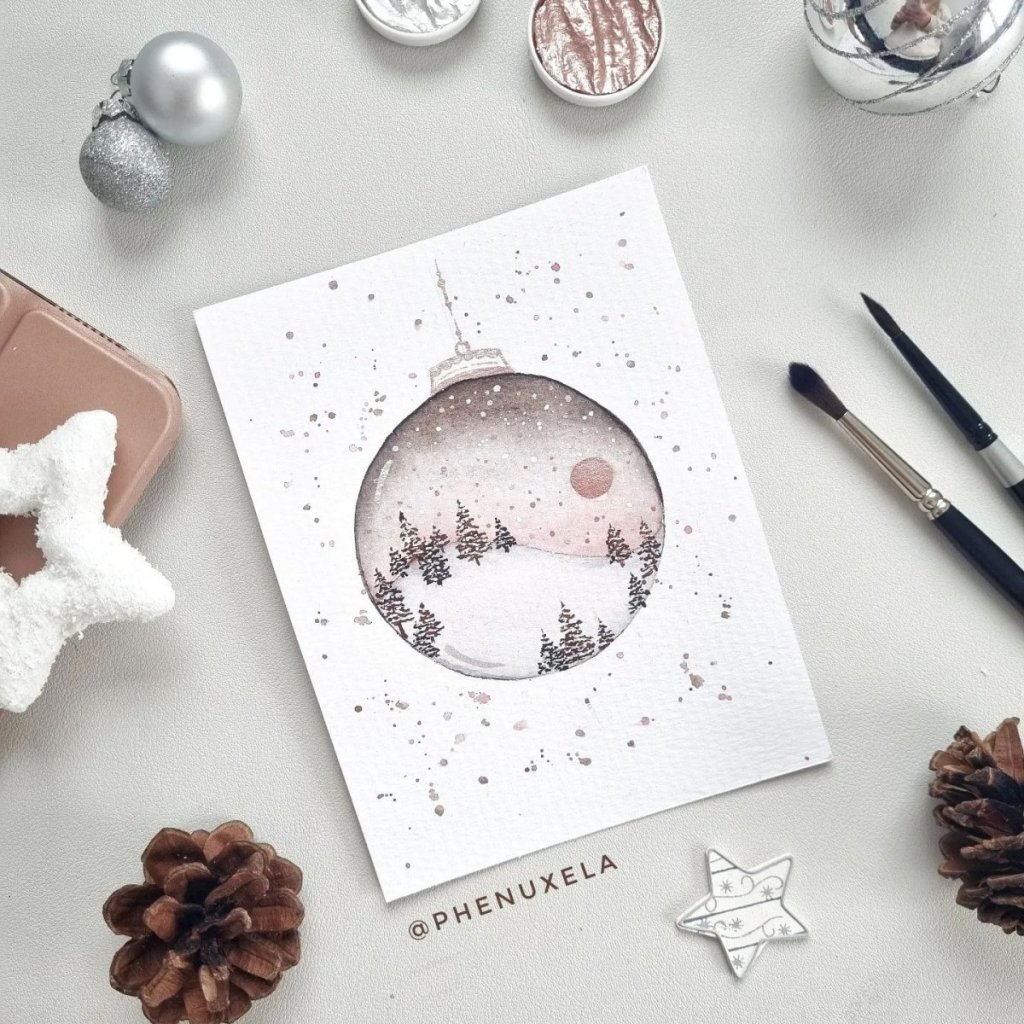 A winter wonderland inside of this ornament looks just like a frosty snow globe. This idea is pretty simple to recreate by filling a circle with some wet into wet colours and letting the background dry before adding the trees and details.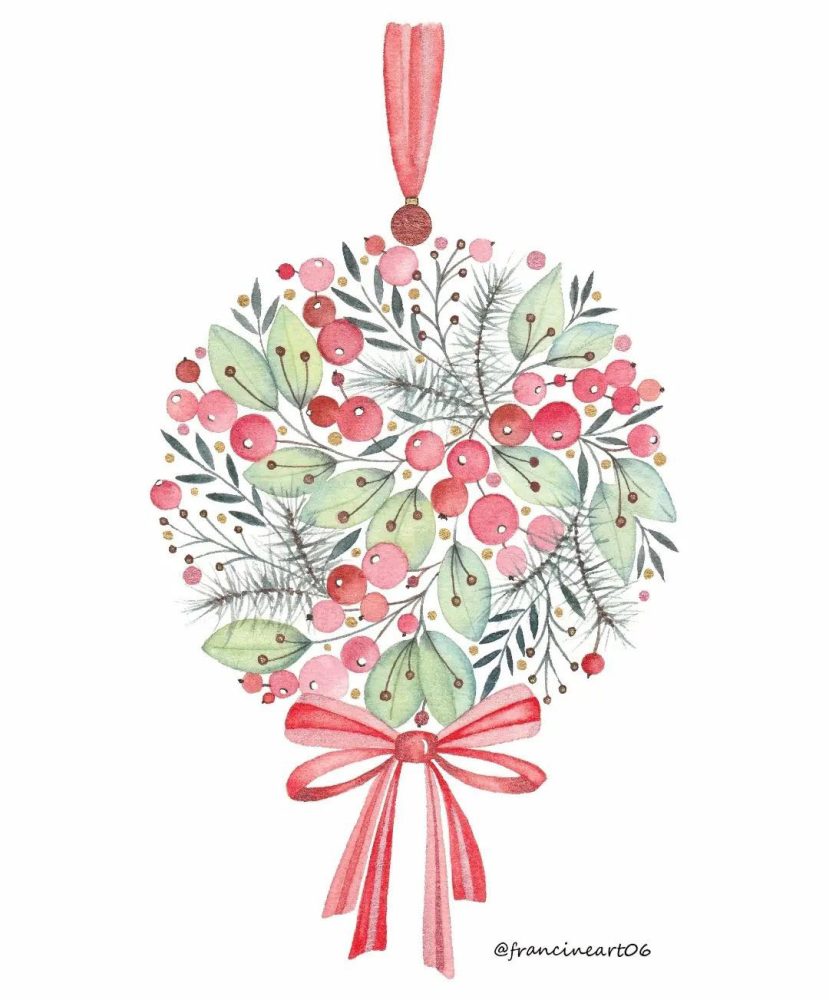 This Christmas decoration doubles as a hanging ornament and is filled with lovely winter foliage and a big red bow. A light outline of a circle drawn in pencil will help your leaves and berries stay within the boundaries while you paint.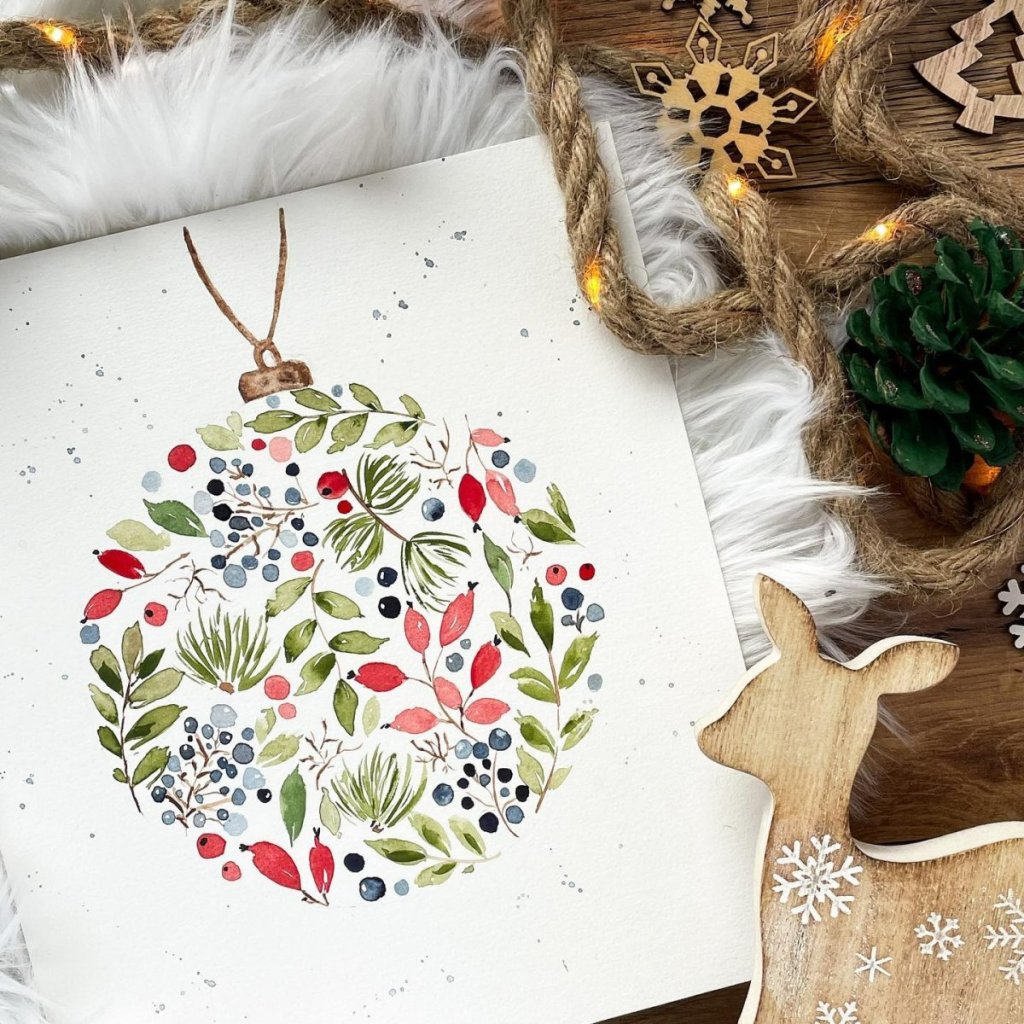 Another ornament filled with leaves, berries and twigs, which is a favourite of the season! Using both wet into wet and wet on dry applications helps to create a those lovely light/dark effects.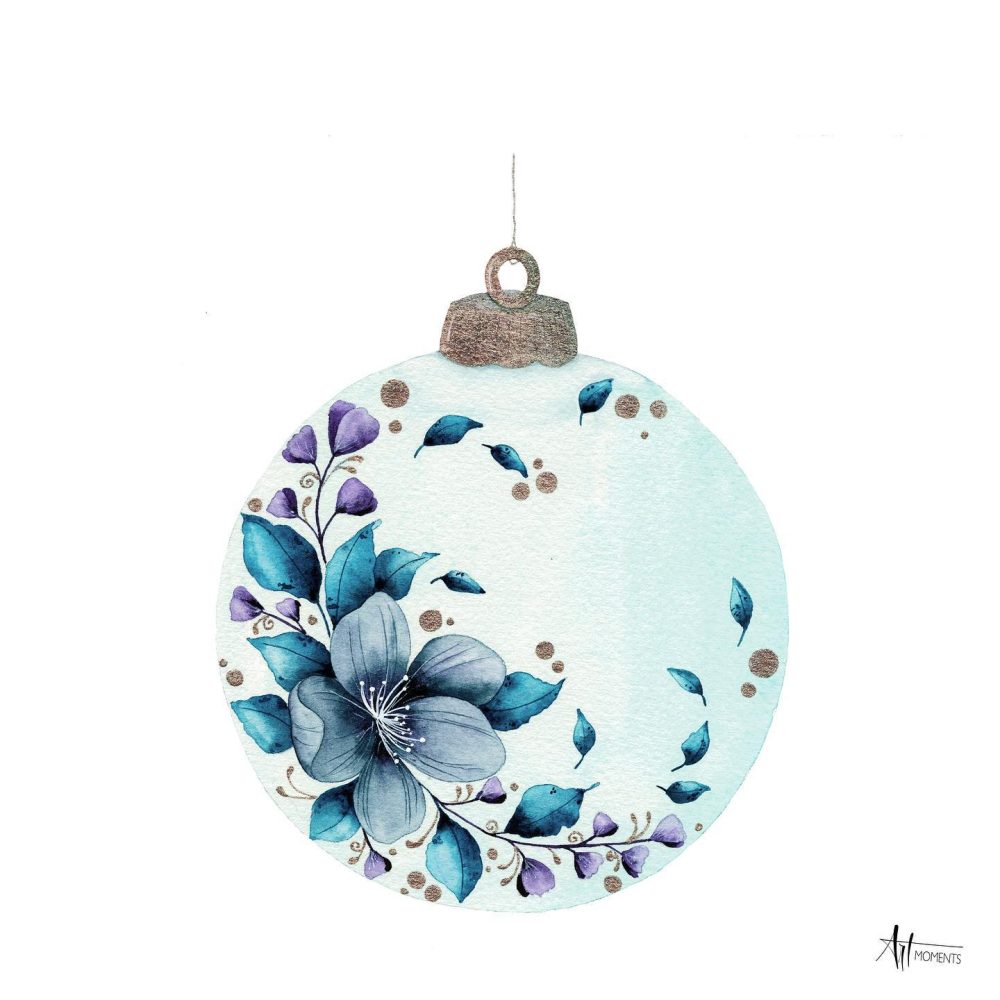 This ornament is decorated with some stunningly beautiful floral watercolor art that bends with the shape of the circle perfectly. The colours are non-traditional Christmas colours, but still definitely bring the holiday vibe!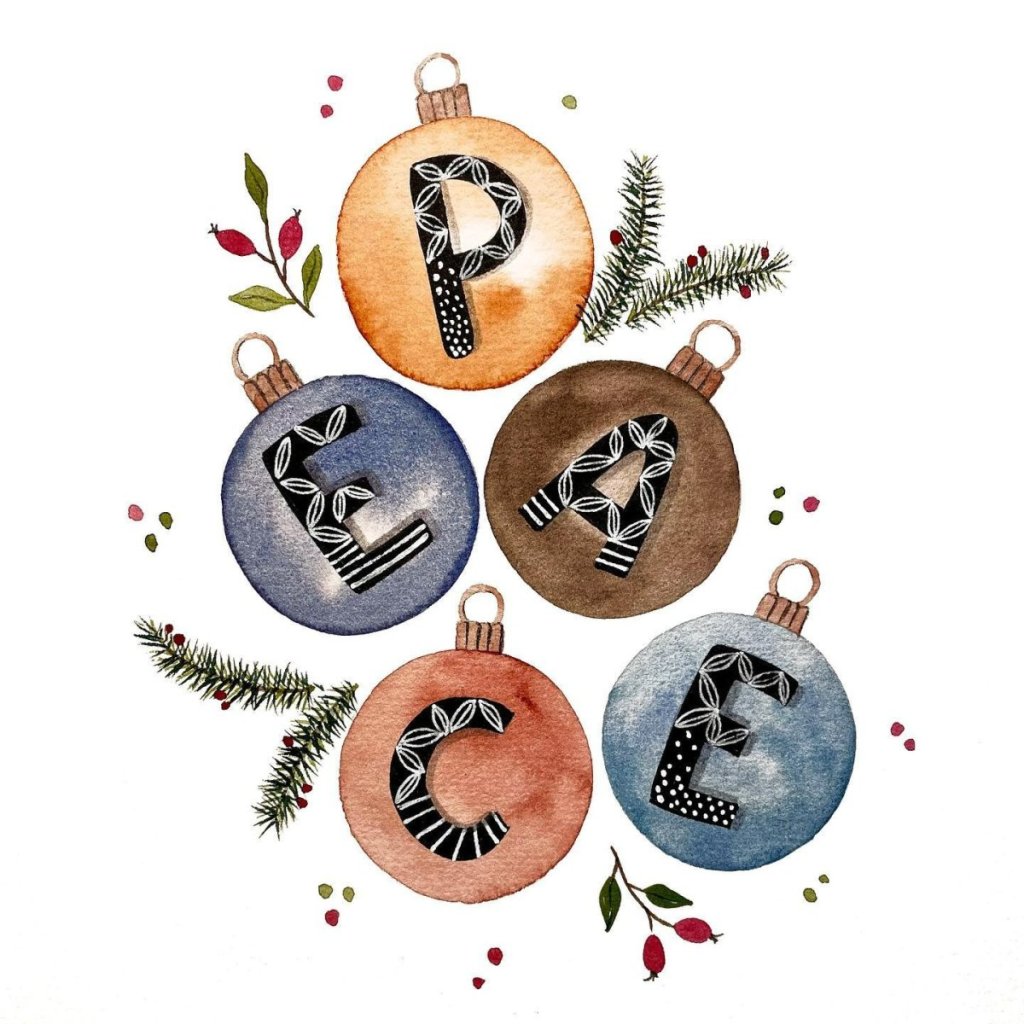 This idea is great for a piece of hanging art prints or a holiday card! You can even try spelling different festive words like "Joy", "Merry", "Jolly" or "Ho Ho Ho!"
Festive Foliage Painting Ideas
It wouldn't be the holiday season without some festive foliage including winter florals, twigs, and branches! These ideas vary in difficulty but all offer creative ideas to help you get started.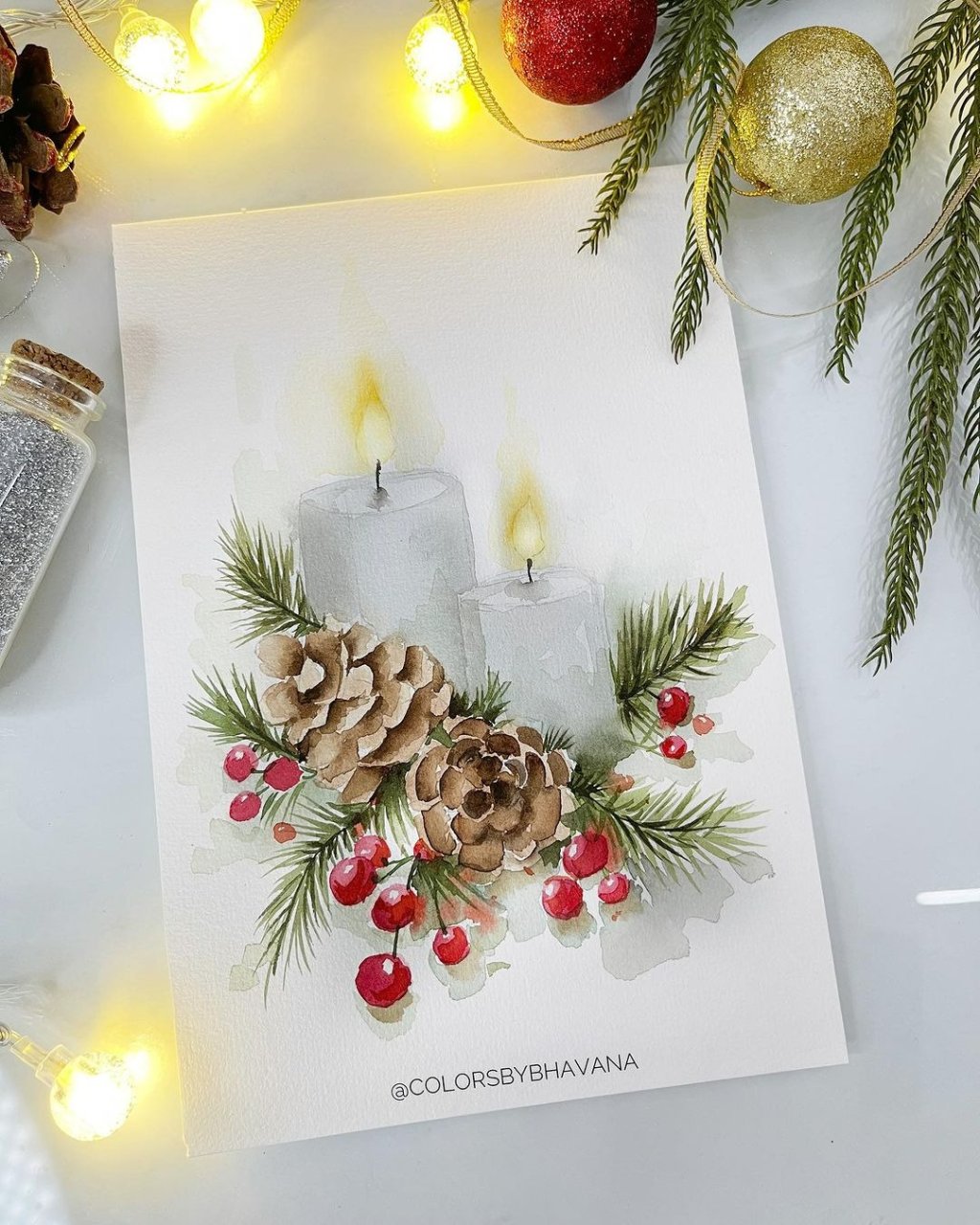 Pine cones, berries and spruce are a staple of the season. When trying a piece like this, it can help to lightly sketch out the illustration beforehand so you have a guide and can visualize the composition.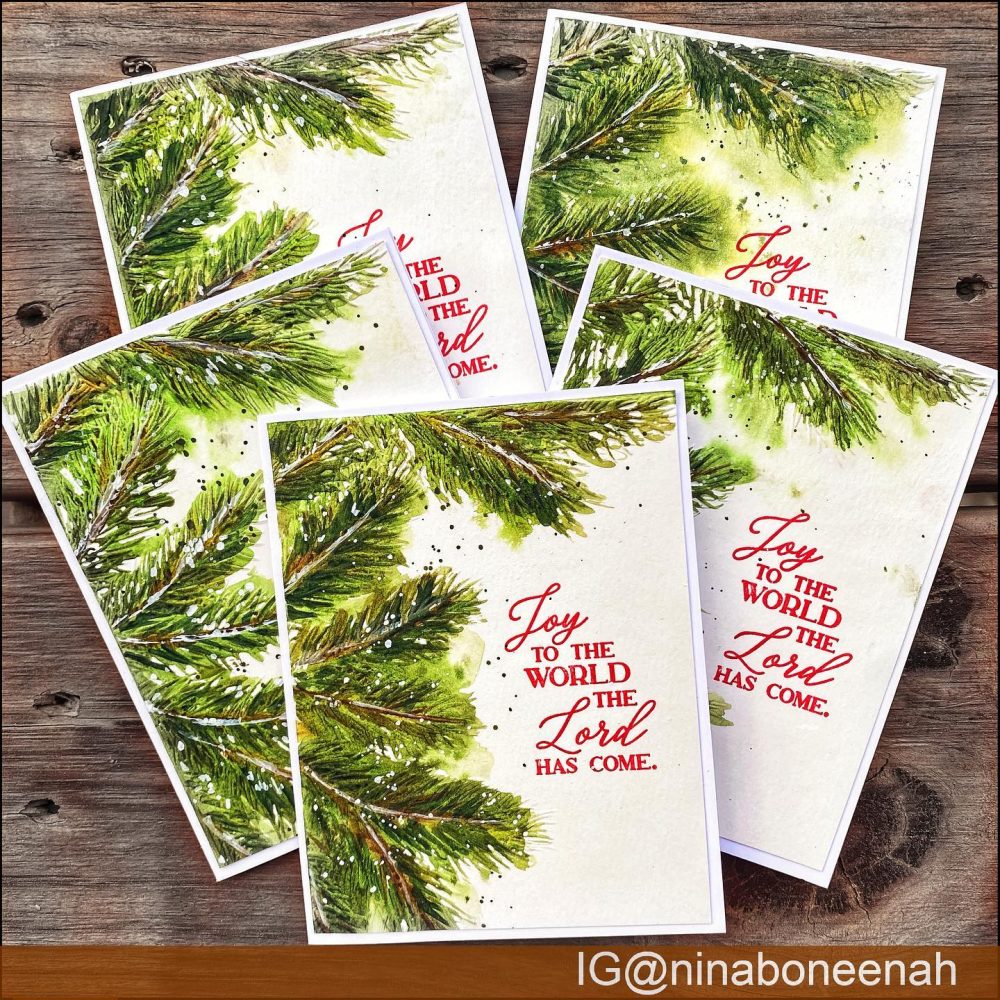 Evergreen branches with details of white snow look lovely in a variety of green tones. Try a more blueish shade for Blue Spruce trees and to add some dimension to an otherwise green painting.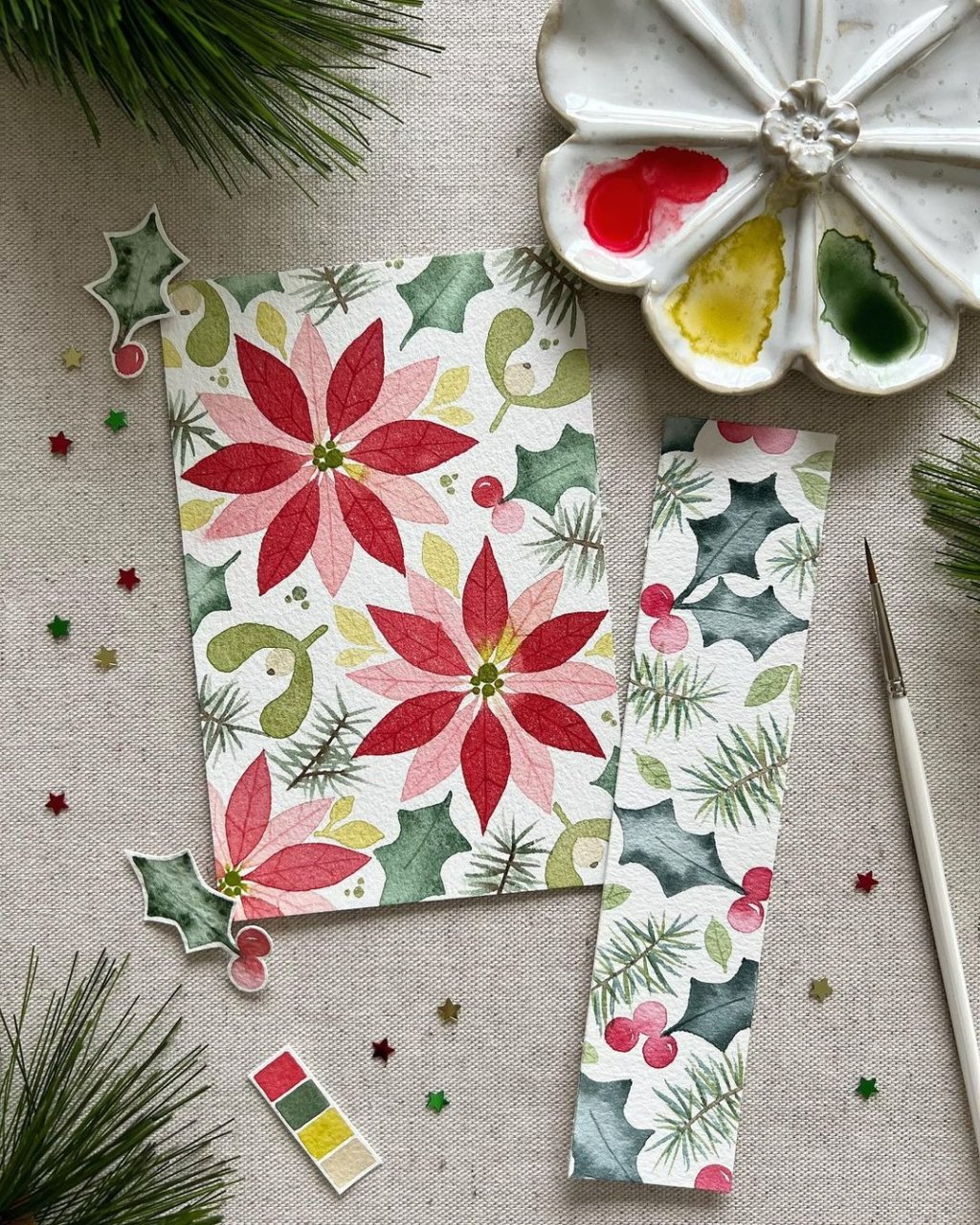 This idea resembles a seamless pattern as the artwork is filled from edge to edge! The poinsettias are simple to recreate in red and pink tones, and the wet into wet details on the leaves add some depth.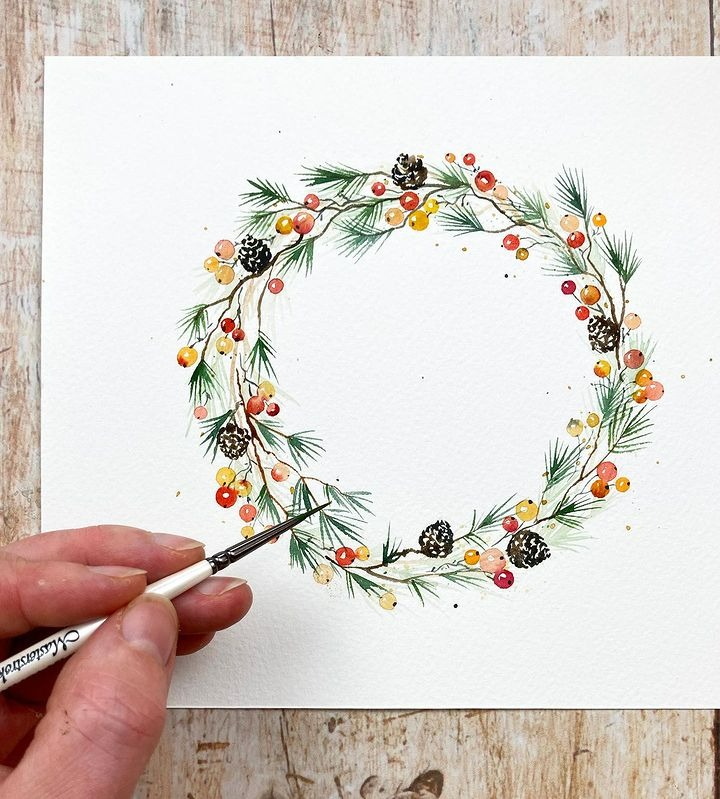 Is it even Christmas if you don't paint a wreath?! Using a fine tipped brush (like the fine detail brush in our Wonder Forest Essential Detail brush set!) will help you achieve these small details. Trace something circular to get your basic shape and then dive in!
Holiday House Watercolour Paintings
Winter means lots of snow (at least where I live!) and gorgeous cold tones. These winter paintings combine different techniques to create totally original artwork that can be displayed throughout the season.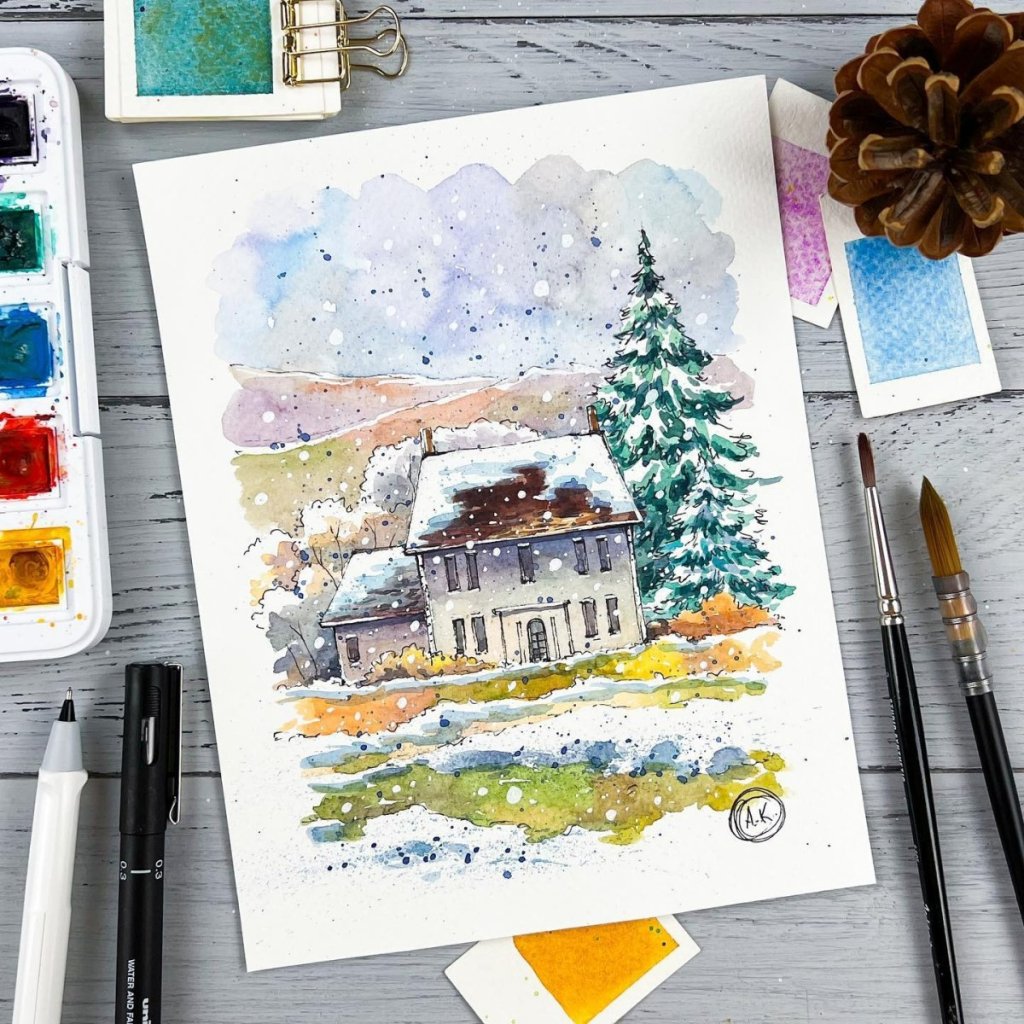 A little bit of ink and wash was used to create this composition. Loose ink lines and scribbles help to define certain areas of the painting, while the colours complete the whole look.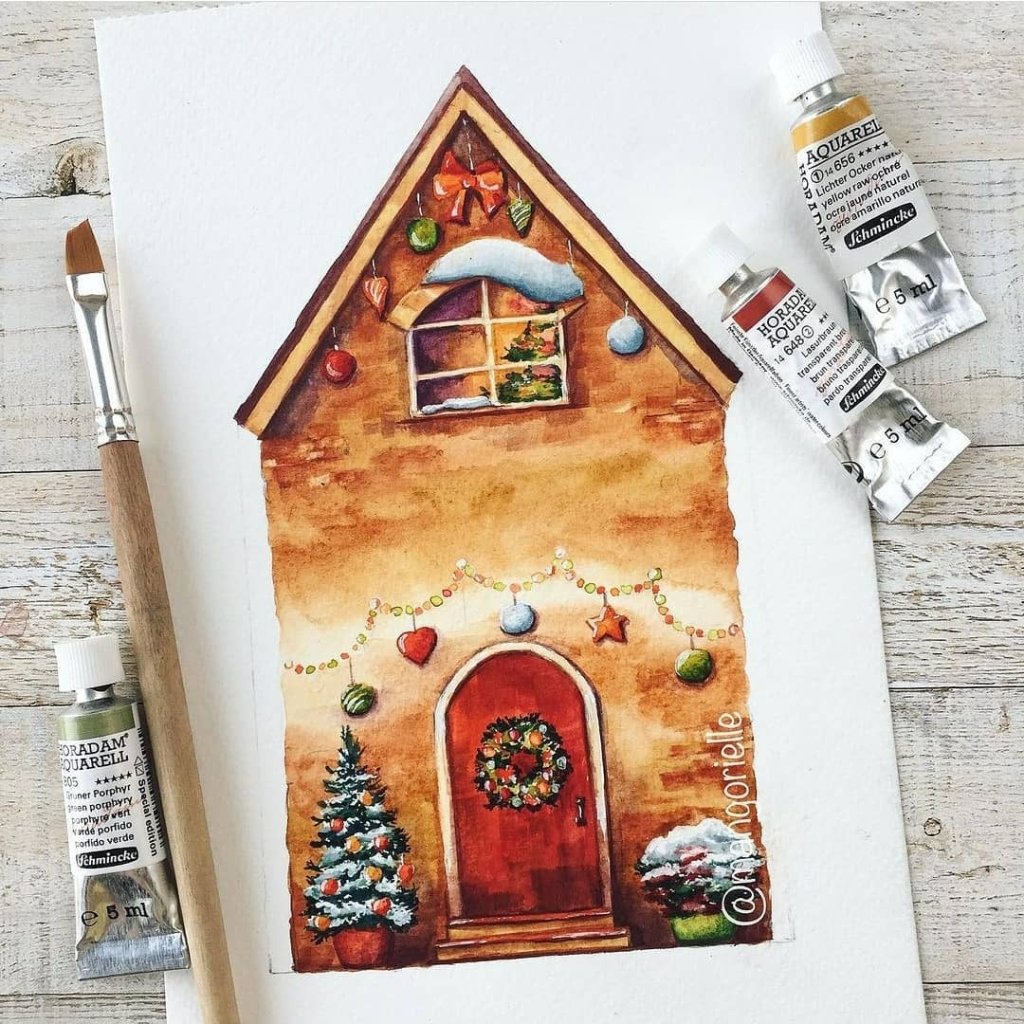 What is more Christmasy than a home that resembles a gingerbread house?! The colours of this house look so yummy and the small details with perfect shading look super inviting.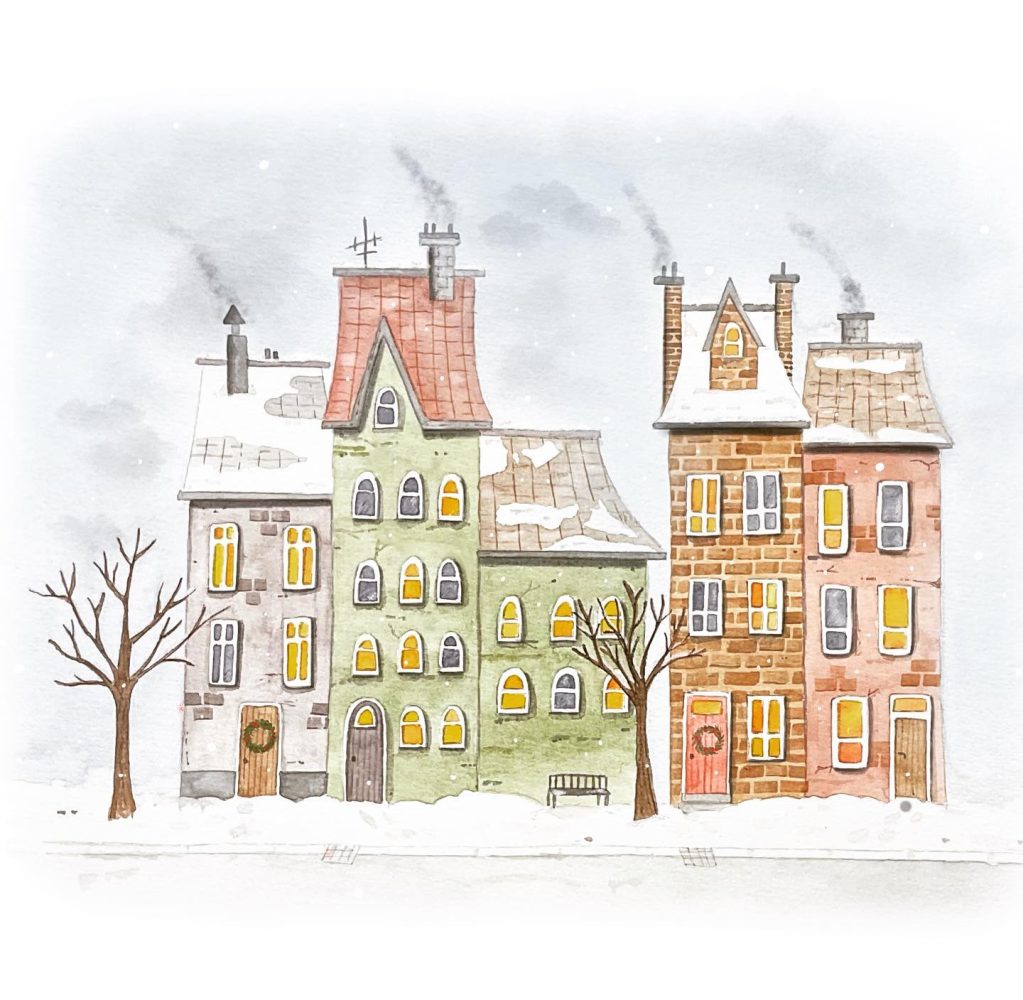 This watercolor illustration would be so fun to try because you can totally customize the houses, windows, and decorations.
Holiday Critter Watercolor Ideas
We can't forget about our little friends during the winter months! These adorable illustrations should give you plenty of ideas of animals and characters you can paint.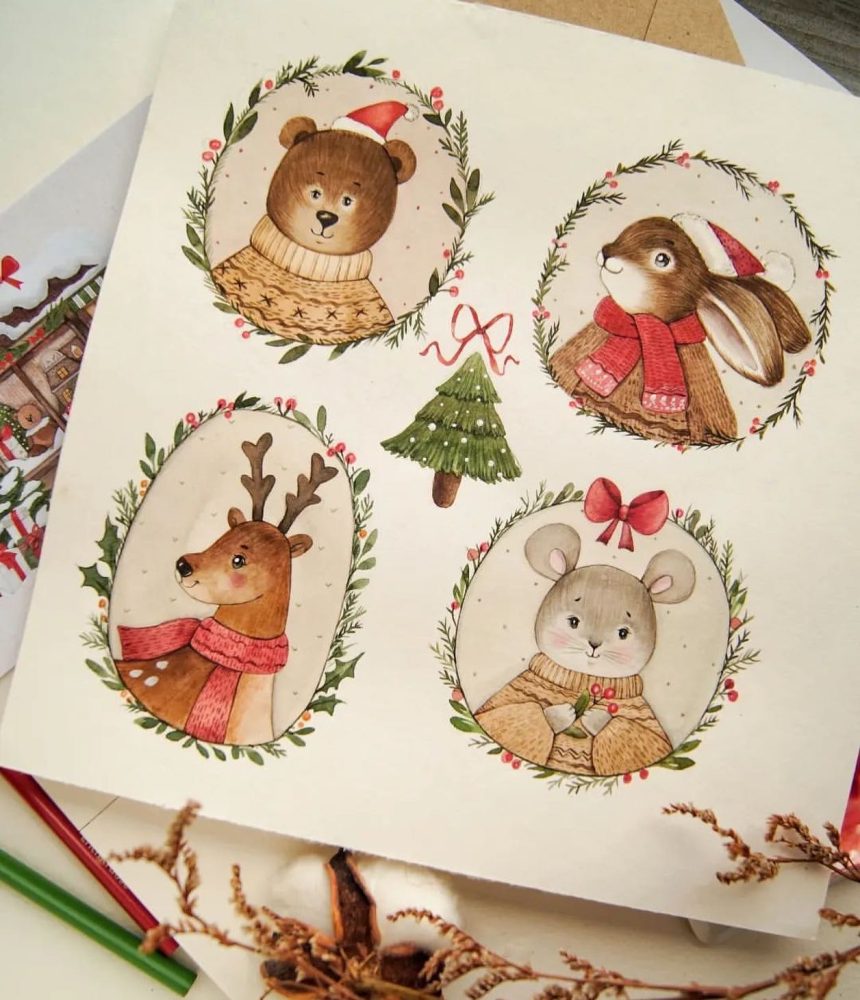 A bear, a rabbit, a deer, and a mouse make for the cutest little cameo style framed illustrations. Think about adding winter details like scarves and hats to your little furry friends at this time of year!
This step-by-step watercolor Fox tutorial shows you exactly how to recreate this adorable little guy. Will you give it a try?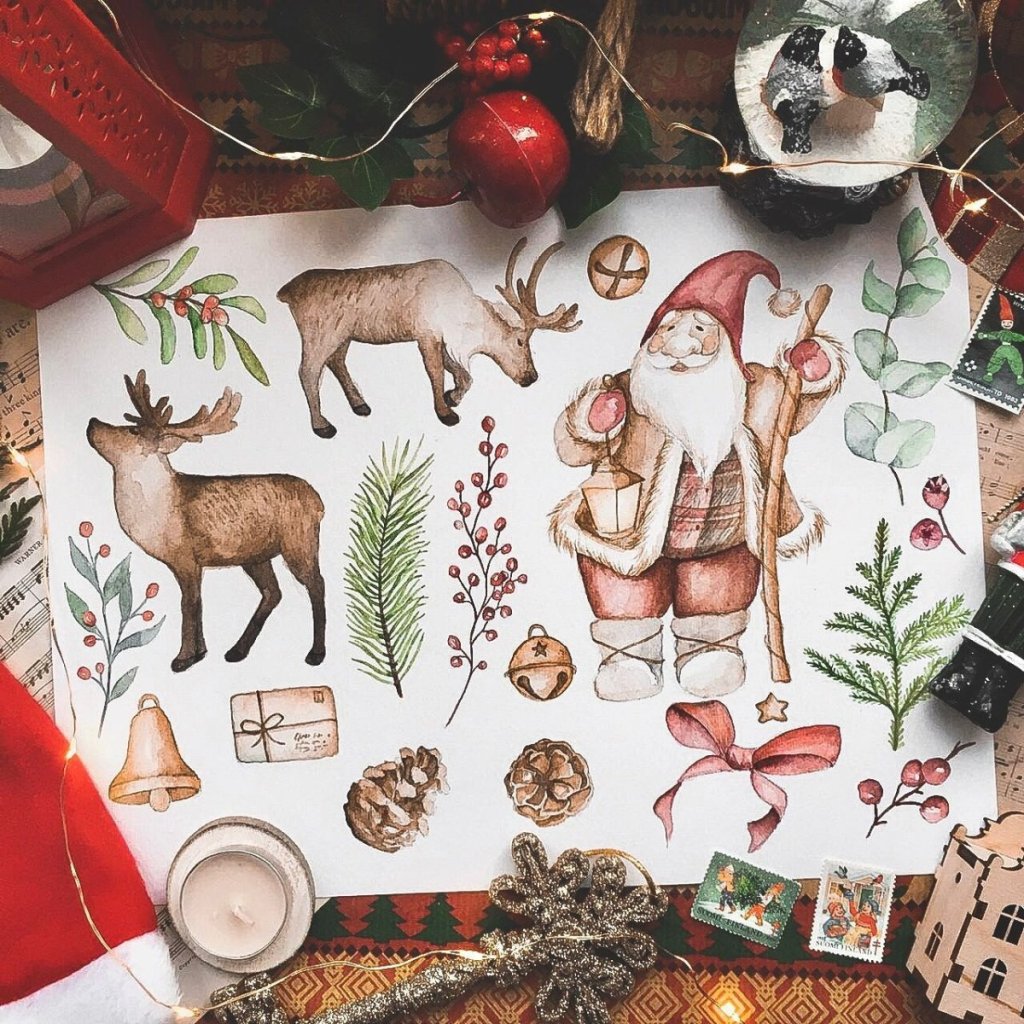 This watercolor Santa Claus and his reindeer full page spread draws inspiration from classic tales and winter elements. Try creating a full page of your own with winter and Christmas inspired illustrations.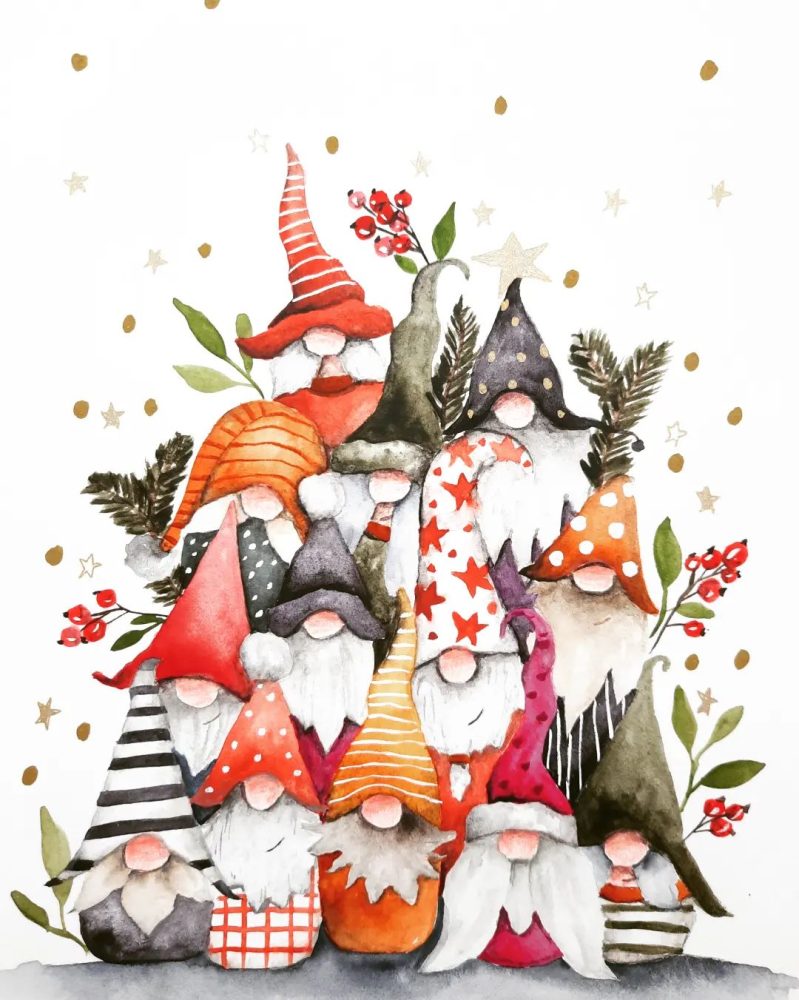 These holly jolly gnomes are dressed for the season and are lots of fun to decorate! You can change the look of them just by changing colours and patterns on their clothing.
Watercolor Christmas Trees
Trees are beautiful at this time of year — all covered in snow and decorations. There are so many different ways to paint a watercolor tree, and here are a few of my favourites: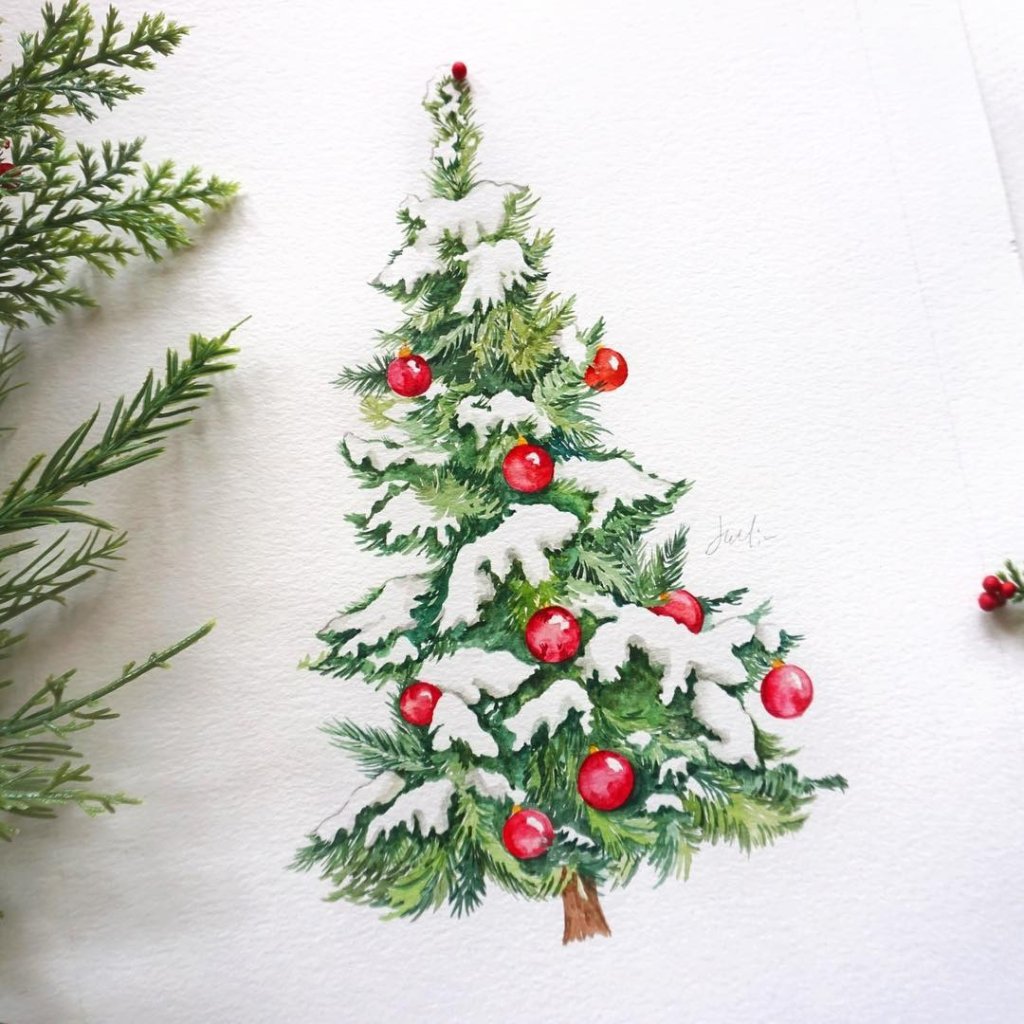 This tree is pretty detailed with different shades of green. A fine detail brush will help to create those long wispy pine needles, and a masking fluid would help mask off any areas that you want to stay white (like the snow!).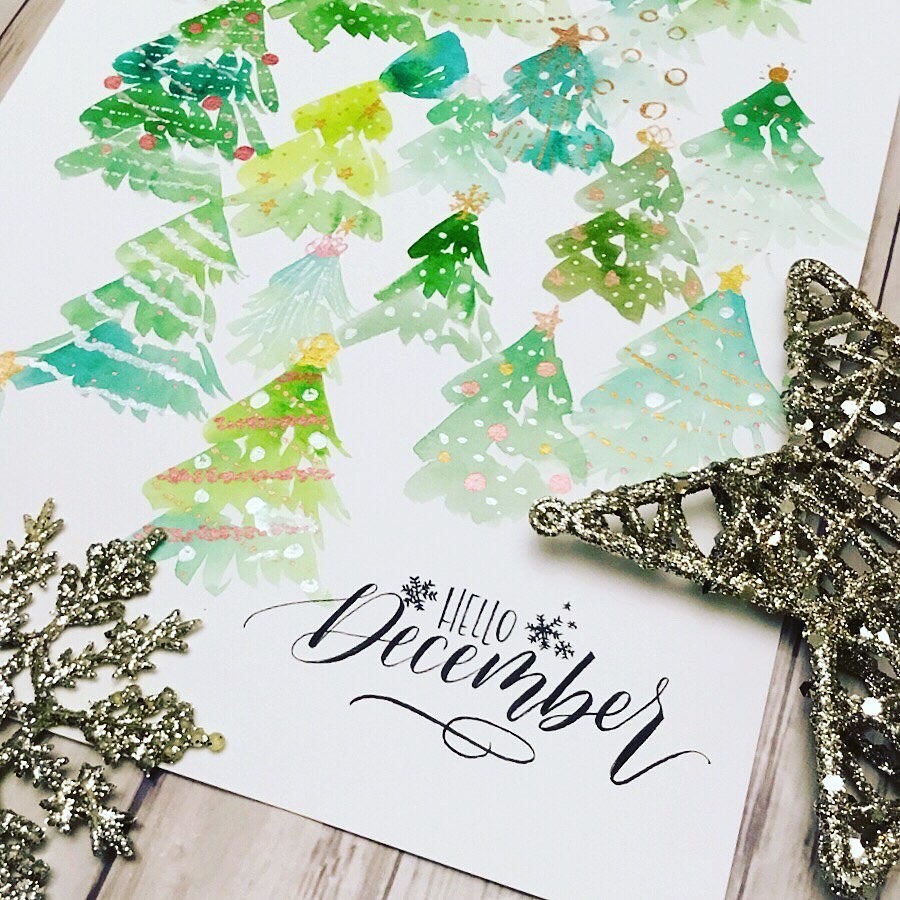 An easy and super loose tree is created here with quick strokes and then left to dry before adding the decorations and christmas lights. Dropping in some other colours and shades of green while wet create some awesome effects!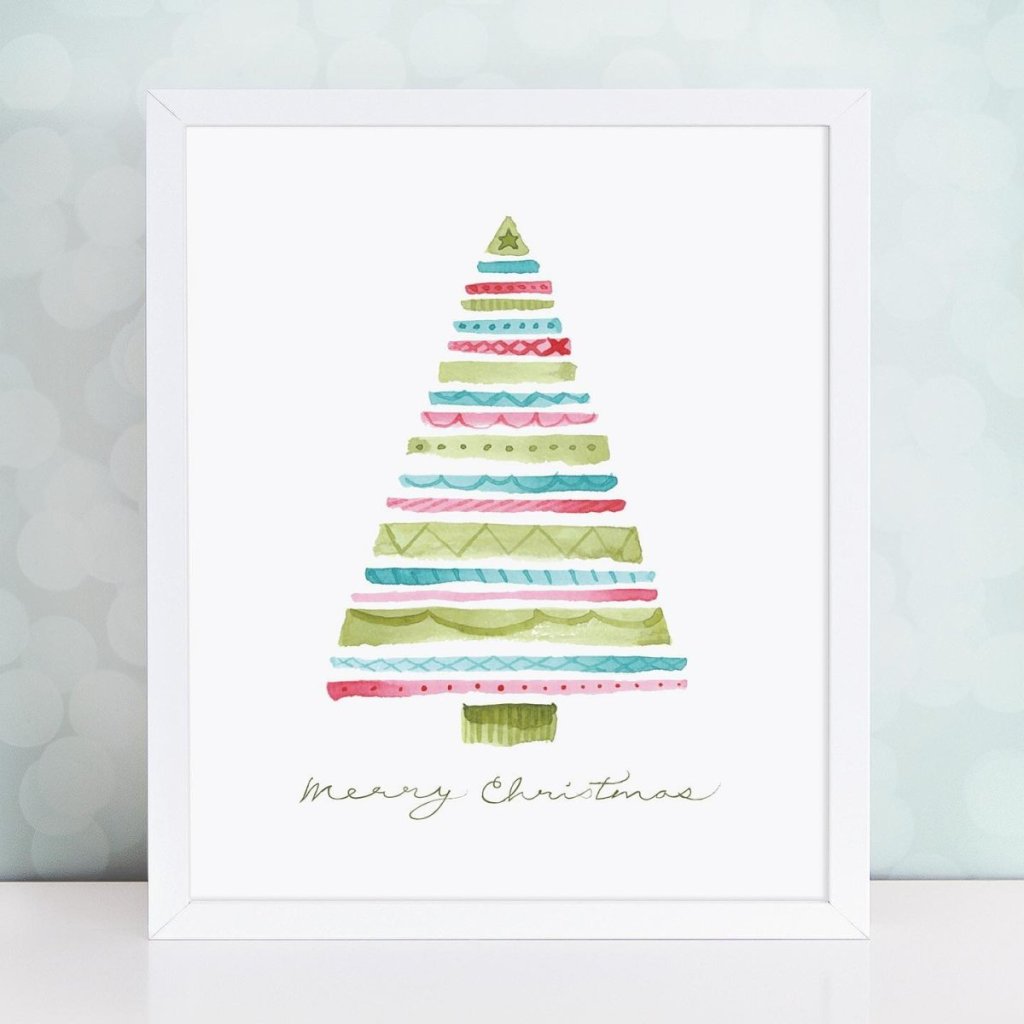 Another super simple option that would be really quick to paint as well! Mask off the outside edges in a triangle shape and then just paint horizontal stripes. Let dry and add decorations to the stripes! Easy peasy!
Watercolor Christmas Gift Tags
Making your own watercolour gift tags for Christmas is a creative and eco-friendly way to spruce up any package. You can hole-punch the tops and add a string to easily hang them on any gift.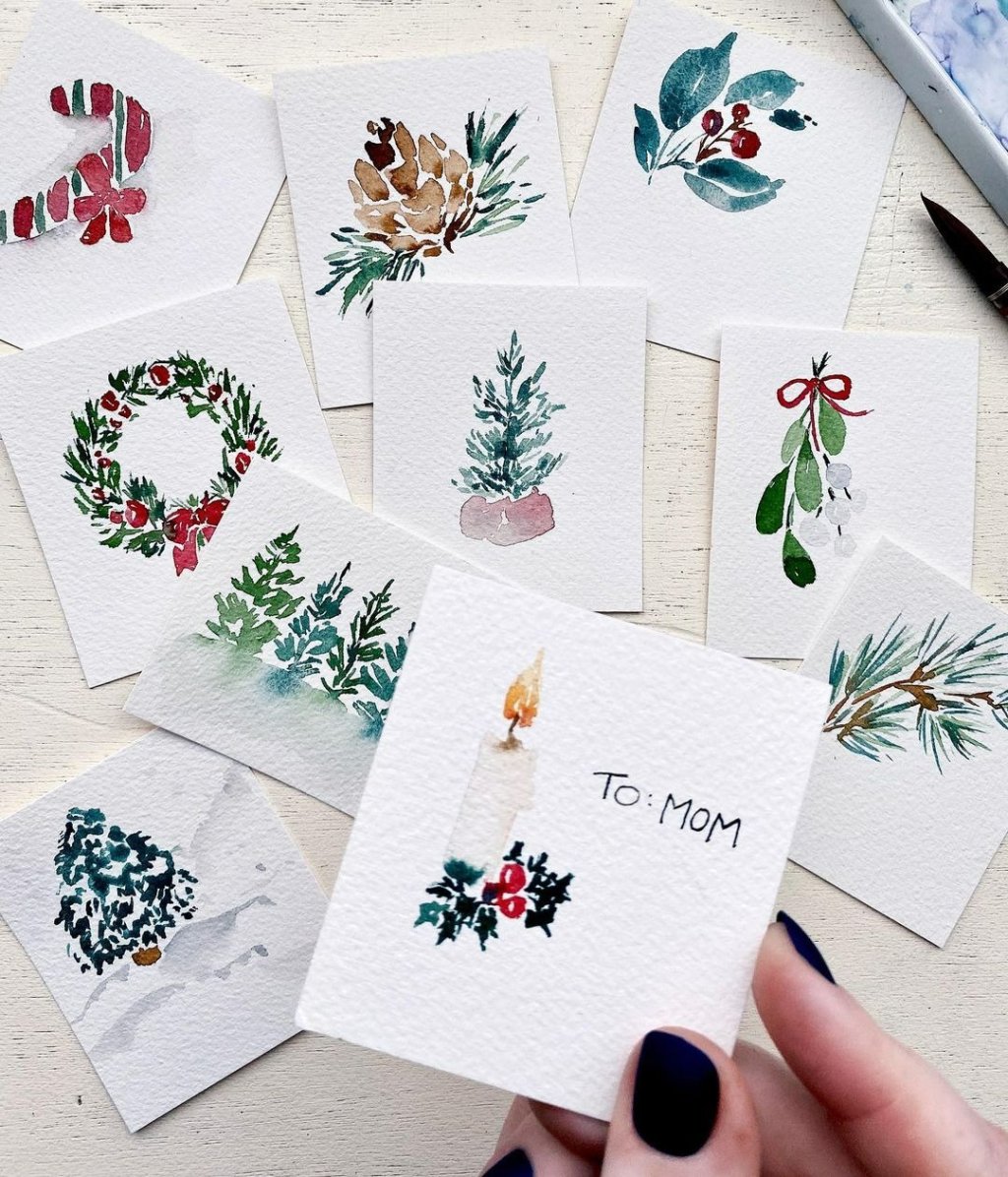 These little illustrations can be done relatively quickly and each present you wrap will have a different custom tag. This is also a great way to practice your brushstrokes.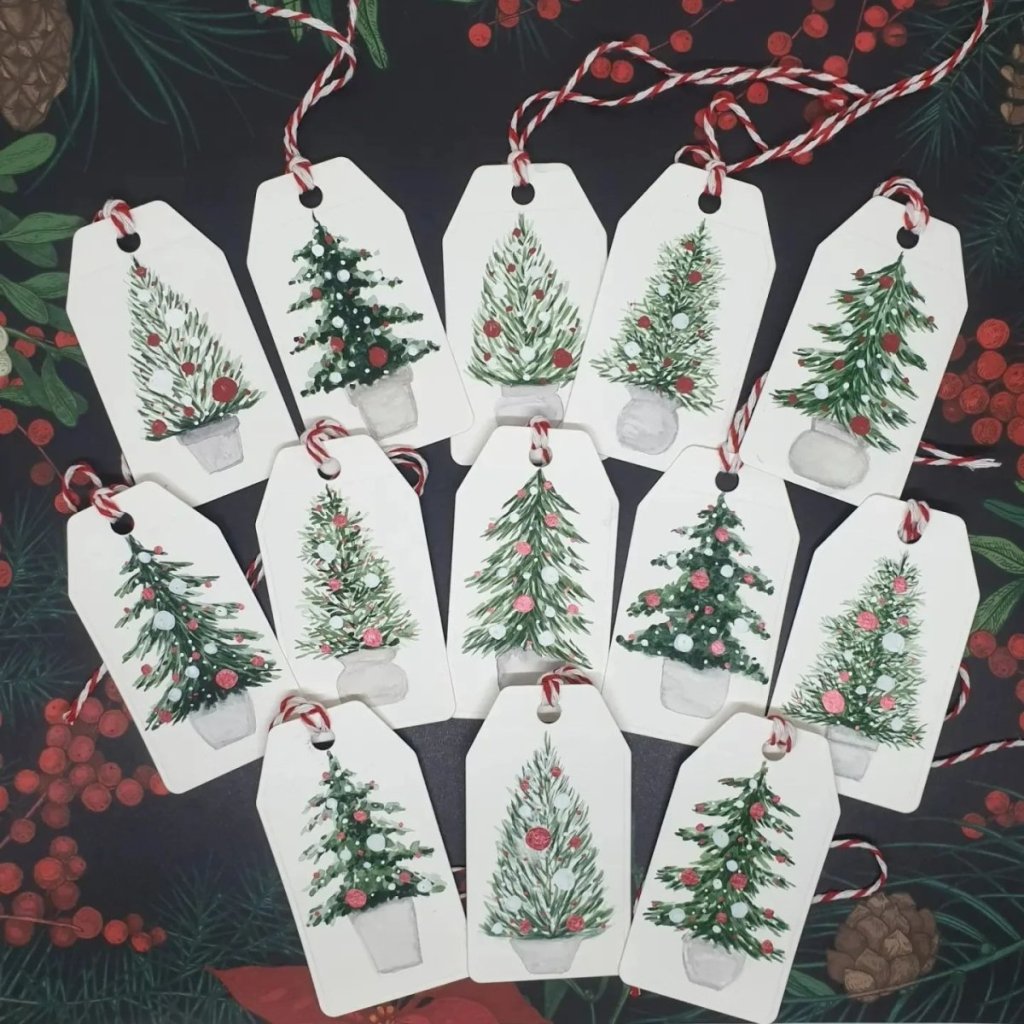 Little trees painted onto gift tags are just so cute! Each one is slightly different and can be decorated however you like.
Watercolor Christmas Cards
Finally, we can't make a post without adding in some watercolour Christmas card ideas. In actuality, any watercolour design you create can be made into a card, but here are some card-specific ideas to get your artistic mojo going!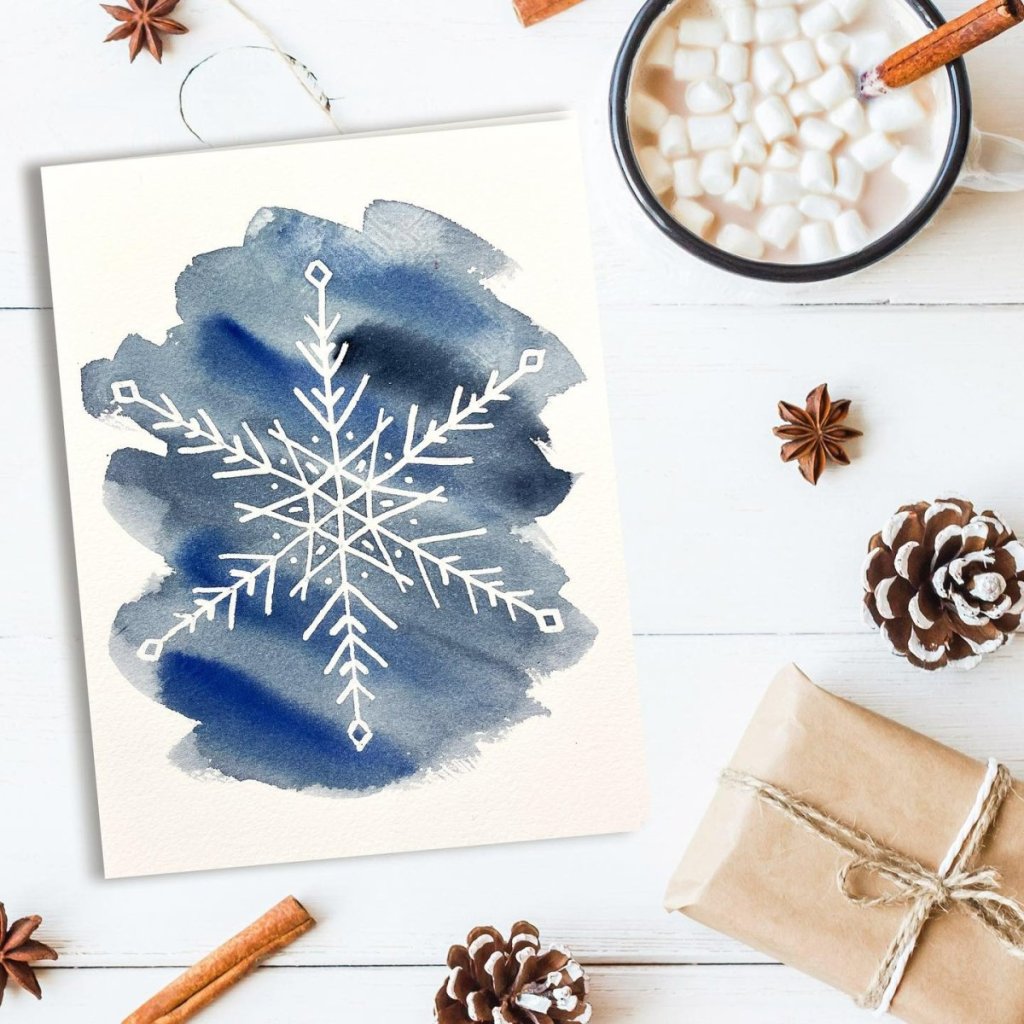 A simple snowflake makes a big impression! Mask off your paper using a masking fluid pen (like this one), then grab a large wet brush and wipe on some colour! The effect will be different each time.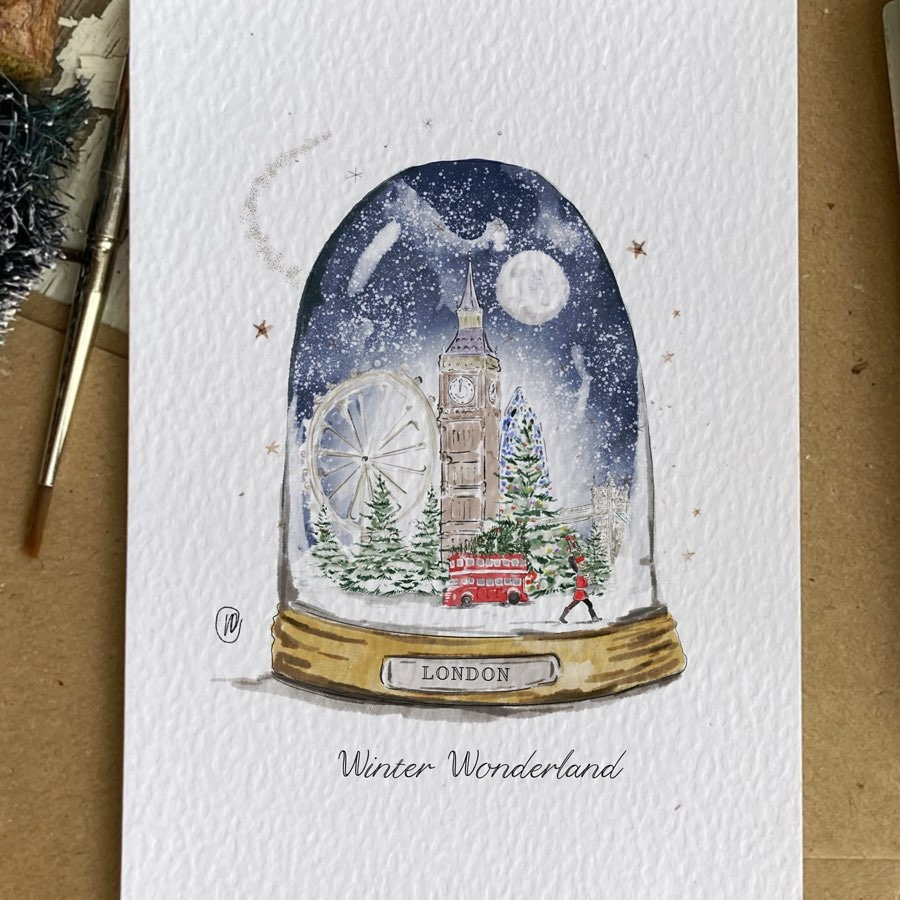 A snow globe is another one of those ideas that can be totally customized. What about painting your recipient's favourite place, or something that means something to you? You can try something a little less detailed also… like a snowman!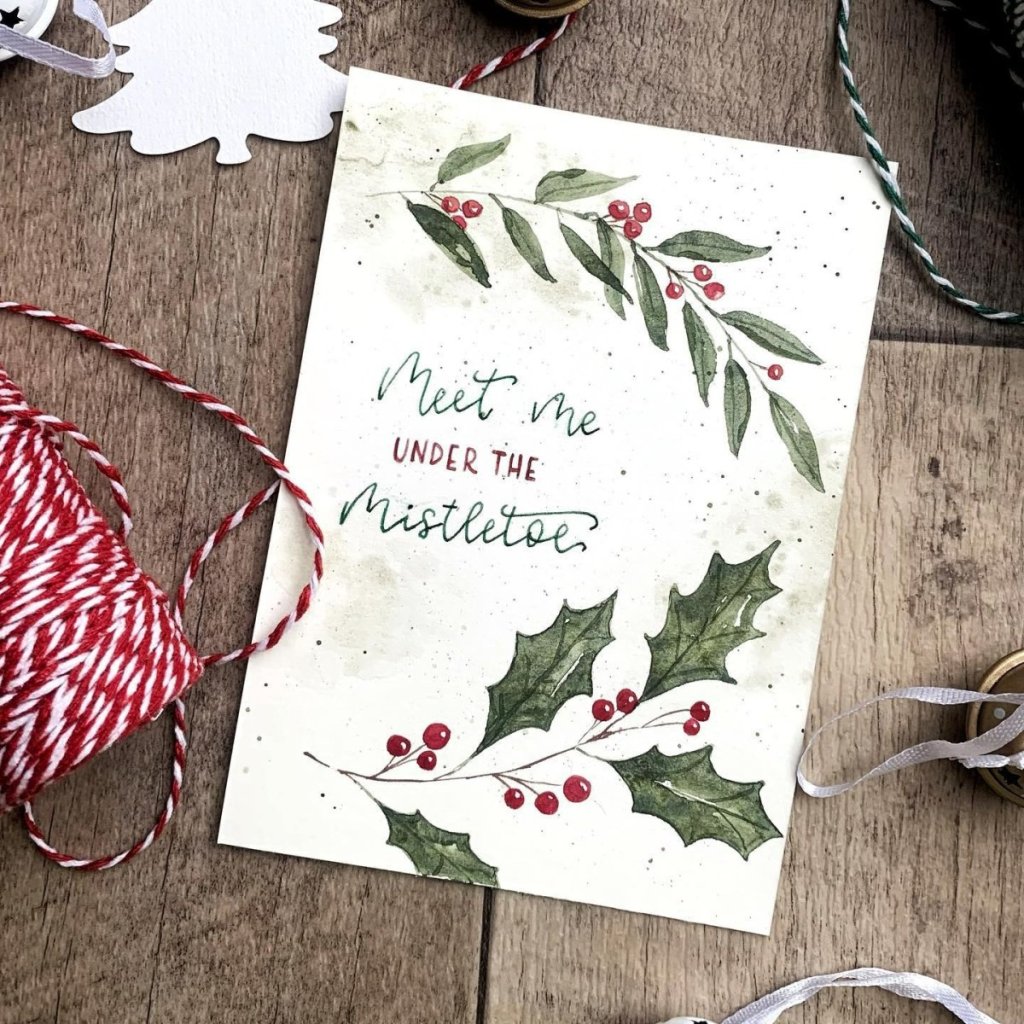 A card with some handwritten text is also a popular choice. This mistletoe is easy to replicate!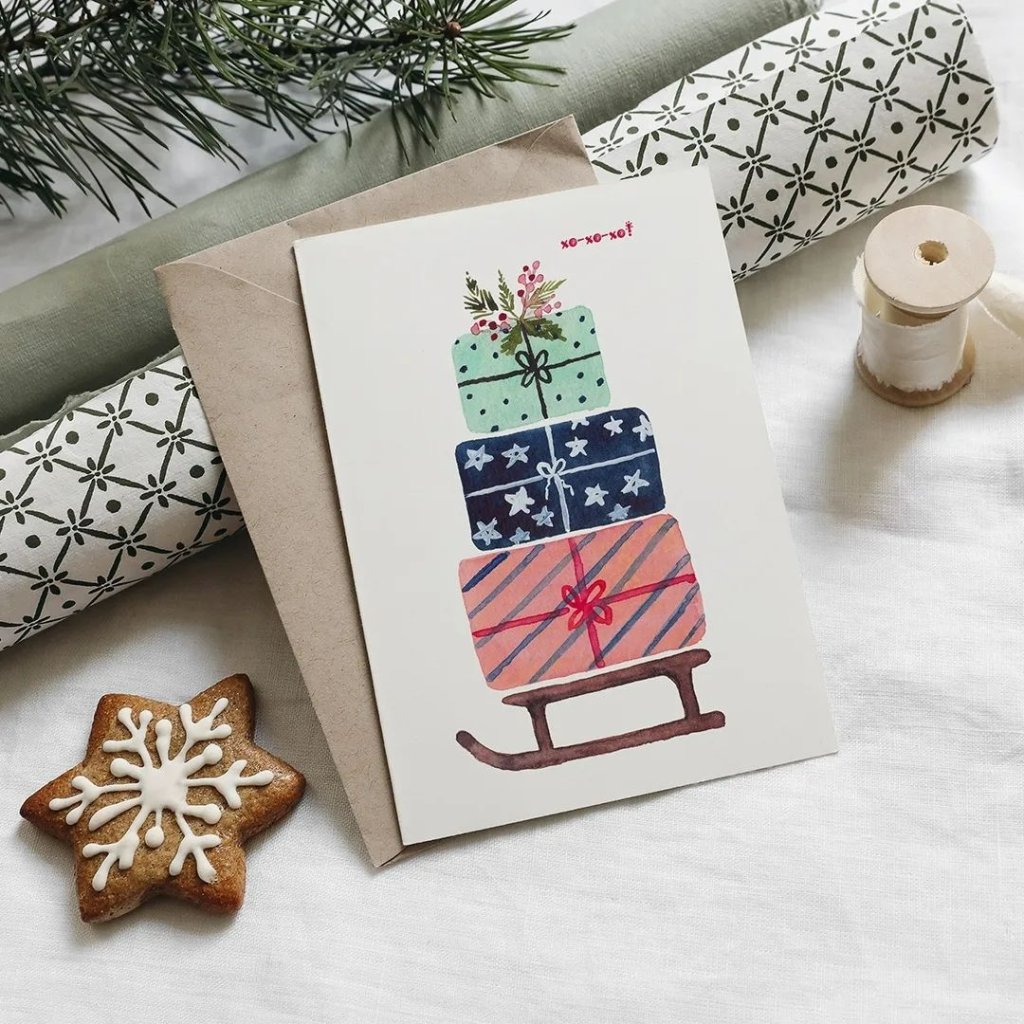 I love a good old folksy style illustration like this one. Simple, solid shapes with minimal details! This is an idea that anyone can try no matter your technical skill level.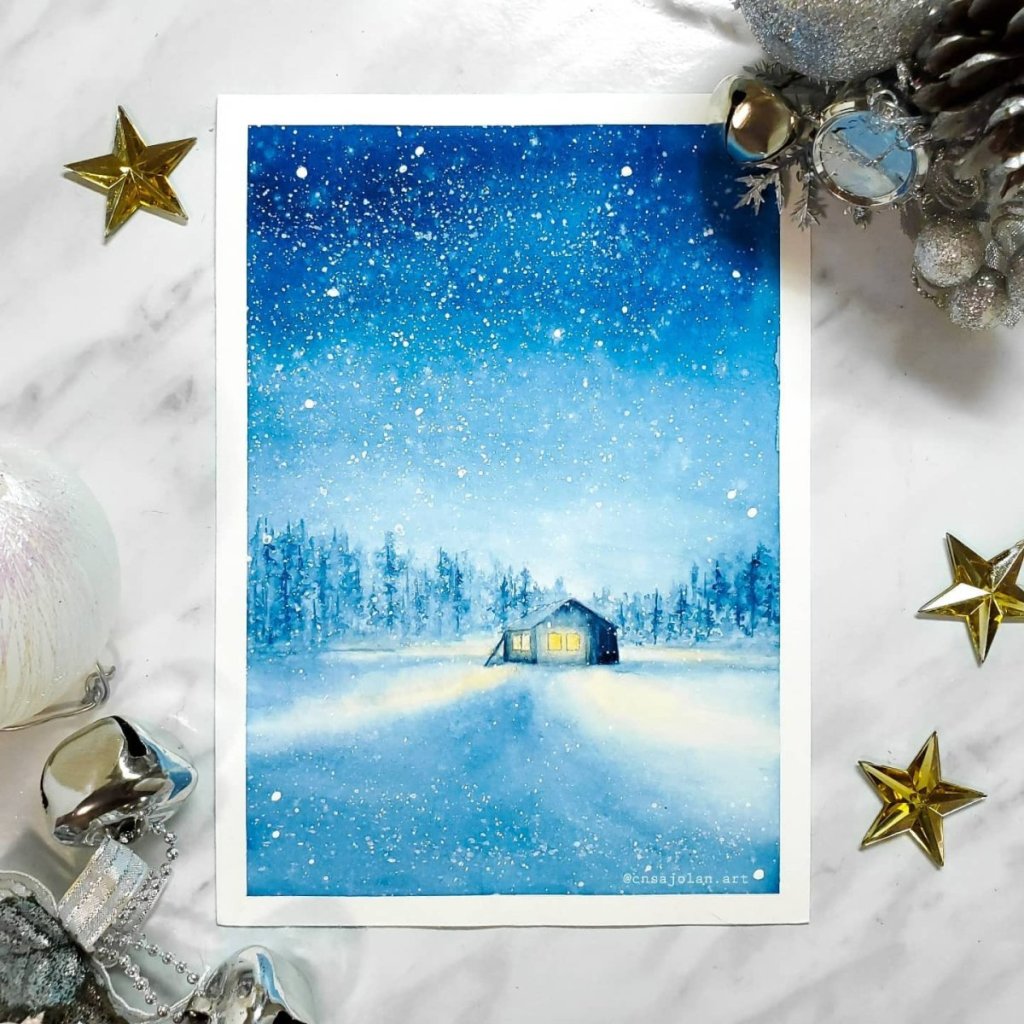 A winter forest landscape always looks so beautiful in watercolor. Try using blue and cool tones like this one to make that snowy, cold effect even greater. You can find a video clip or tons of video tutorials for landscapes on YouTube!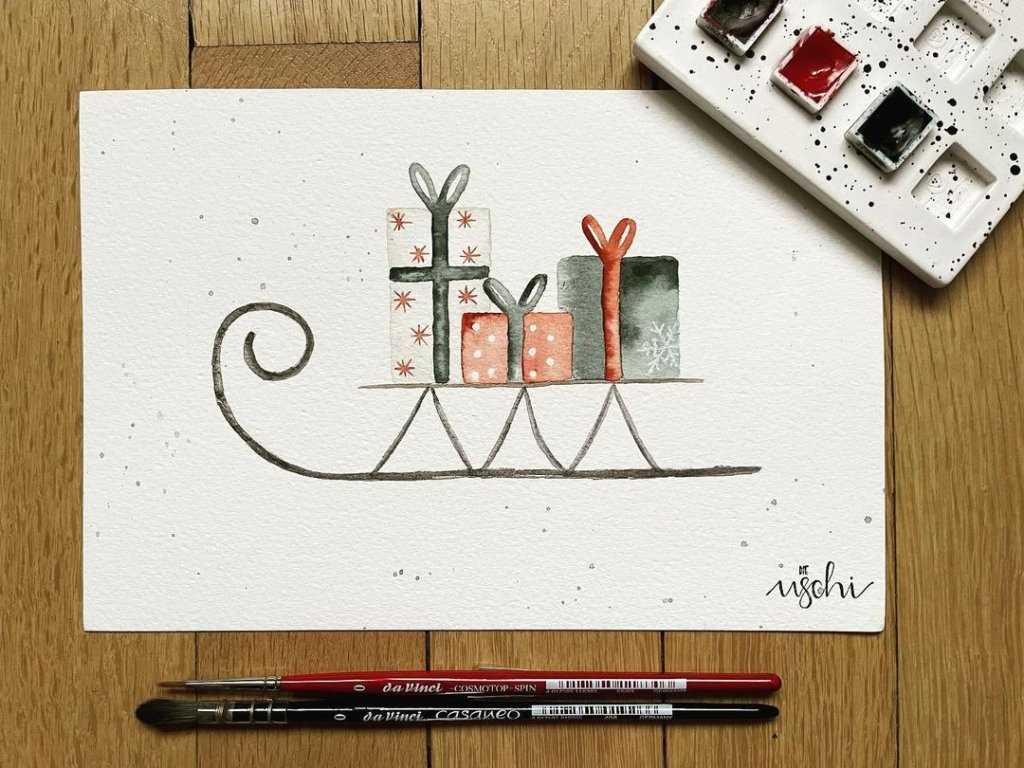 Finally, this card uses simple lines and minimal colours to create a really adorable Christmasy card that would be great for anybody this year!
With the holidays coming up quickly, have you thought about what you're going to paint? I hope this post gave you lots of creative watercolor painting ideas for Christmas!
Have a very Merry Christmas and Happy New Year!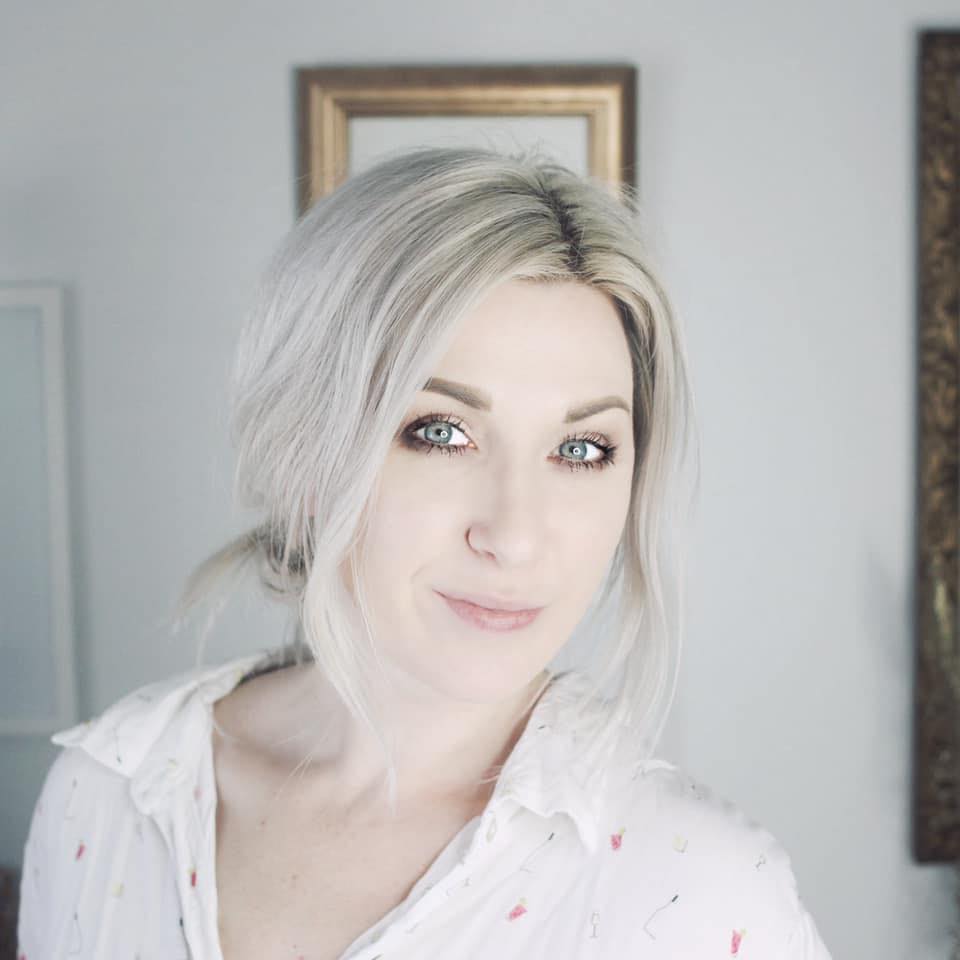 Besides being a wife and mama, I'm an entrepreneur, artist and author of the Watercolor With Me book series. I'm from Ontario, Canada and founder of the brand Wonder Forest. I'm here to help you on your watercolour journey!